Beach Reads That'll Make You Cry Salty Ocean Tears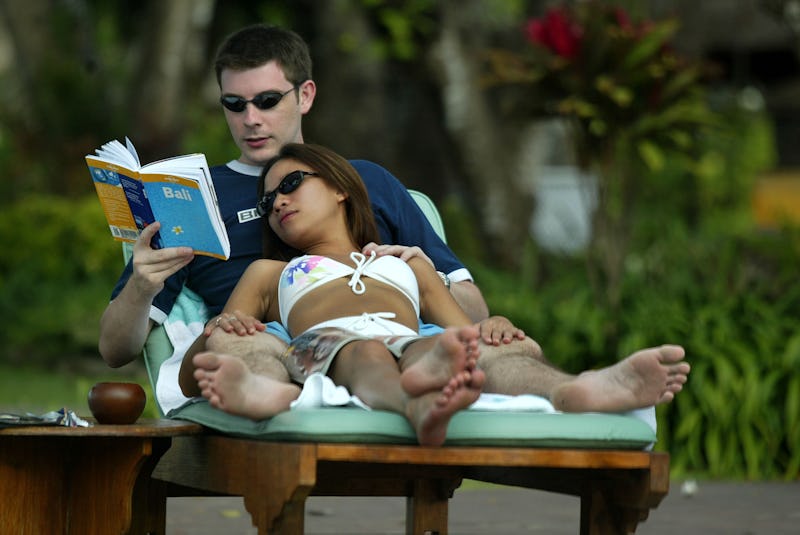 Paula Bronstein/Getty Images News/Getty Images
The beach is supposed to be a happy place, full of dogs frolicking, children building sand castles, and buff young men sprinting toward you with pitchers of piña coladas every time you hold up your glass. But sometimes, though your body may be tan and happy, your brain is in the mood for a good tearjerker. You want to read about abandonment. You want to read about the end times. You want to read and re-read that one scene where the stray dog dashes into the street to save the child and then gets adopted by the child's family and years later dies of an incurable disease in the arms of that very same child, who's now grown and working as a buff guy who serves piña coladas to resort guests. Oh, the humanity!
The following books are not only ready to meet all your crying-in-the-sand needs, but every one of them was written by a woman. In addition, a good number of these books mark the author's debut, and many are put out by small, independent publishers. You'll cry, sure, but you'll also read on with a warm glow of goodwill in your heart that has nothing to do with the fact that your glass is currently being refilled.
Recipe for tears: One dead child, cultural rifts, family secrets, and a Pushcart-winning author who knows what she's doing with the sad scenes.
Jacobs' characters are sad on their own and even sadder when interacting with each other, like when the sorrowful mother who makes beautiful meals cooks for her traumatized photojournalist daughter, or when the father talks to dead relatives.
Two women move to small-town Maine, fall in love with people who might be wrong for them, and, as small-town reporters tend to do, uncover a dangerous small-town secret.
When Olivia returns to the Jersey Shore — a place that's haunted by her troubled past — the worst thing in the world happens: her 9-year-old son, who's just been diagnosed with bipolar disorder, disappears.
5. Nestuary by Molly Sutton Kiefer
This book-length lyrical essay explores motherhood, the most lyrical subject of them all, in all its glory, terror, and mess — not to mention infertility, fertility, a c-section, nursing, and the rich goddess-ness of birthing and raising a child.
A California daughter of alcoholic parents has a relationship with a teacher 15 years older than she is, who encourages her to write — just not about him.
These essays will toy with your emotions in the best way, whether you're reading the one about ecstasy, the one postpartum depression, or the one about being an adult — which is every one of them.
Take a strong female character and have her raise three daughters basically alone, only to watch their grownup lives crumble. Waterworks.
This memoir ranges from Paris, France to Paris, Maine, and is definitely written to make you laugh — but maintains that twang of humanity underneath it all that brings a sensitive reader to tears. It'll whet your appetite as it takes you, tenderly, to the end of human and animal life.
Gebirga of Flanders is blind. The last thing seared into her sight was an argument between her parents that resulted in her mother's death. After enduring her heartless family for long enough, she runs away with a group of pilgrims to live as a sightless girl in a strange land.
This novel is about another runaway, who sprints off to New Zealand without telling a soul, including her husband. As she hitchhikes, sleeps in parks, frets, and obsesses, her body tries to survive even as her mind crumbles. It's billed as a "black comedy," but its humanity is what will really get you weeping.