The Lead Actor in a Drama Series Emmy Race Is Tight, So Let's Break It Down By the Numbers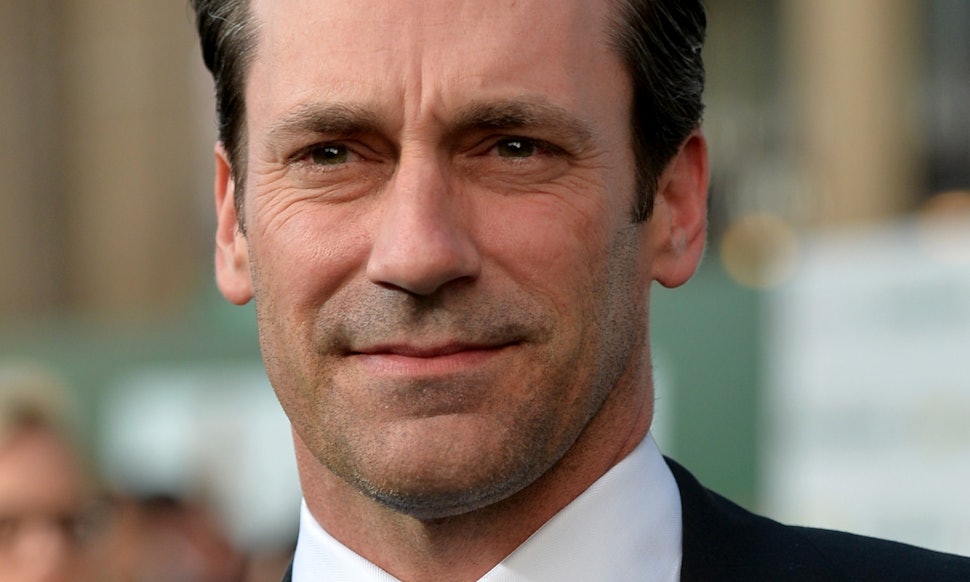 Alberto E. Rodriguez/Getty Images Entertainment/Getty Images
Television nerds, rejoice! Thursday, this year's Emmy nominations have been announced, and no matter which show you're rooting for, 2014 should be interesting for everyone, especially if you love drama shows with complex male antiheroes: This year's Outstanding Lead Actor in a Drama Series category brings together heavy hitters Bryan Cranston from Breaking Bad, Kevin Spacey from House of Cards, Jon Hamm from Mad Men, Jeff Daniels from The Newsroom, and Woody Harrelson and Matthew McConaughey from True Detective.
These men have more in common than not. They all play interesting, complicated antiheroes on critically acclaimed shows, and each one of them has either won or been nominated for multiple awards in movies and television. This is no game for newcomers: These men are all seasoned actors and household names. So who will take home the gold this year is anyone's guess.
But if you're trying to bet on a winning horse, this guide should help you make an informed decision. Will it be the stony Donald Draper or the unpredictable Walter White? The devious Francis Underwood or the smug Will McAvoy? The grim Rust Cohle or his gritty partner Martin Hart?
Let's run the numbers...
Jon Hamm, Mad Men
Awards by the Numbers: One Golden Globe win and four nominations for Mad Men; 11 Emmy nominations for Mad Men and 30 Rock
His Edge: Did you just read that? Eleven Emmy nominations. ELEVEN. They've gotta give the man an award sometime soon.
Bryan Cranston, Breaking Bad
Awards by the Numbers: Four Emmy wins for Breaking Bad and six nominations for Breaking Bad and Malcolm in the Middle; five Golden Globe nominations and one win for Breaking Bad; a Tony win for All the Way.
His Edge: This is the last nomination Bryan Cranston will ever have for Breaking Bad, since it was his last season, and the Emmys love to award swan songs.
Kevin Spacey, House of Cards
Awards by the numbers: Two Oscars for The Usual Suspects and American Beauty; seven Golden Globe nominations for The Usual Suspects, American Beauty, The Shipping News, Beyond the Sea, Recount, Casino Jack, and House of Cards; one Emmy nomination for House of Cards
His Edge: House of Cards is a show that depends heavily on the talents of Spacey, who continually delivers.
Jeff Daniels, The Newsroom
Awards by the numbers: Four Golden Globe nominations for The Purple Rose of Cairo, Something Wild, The Squid and the Whale, and The Newsroom; one Emmy win for The Newsroom.
His Edge: He's the defending champion from last year, going in for round two.
Matthew McConaughey, True Detective
Awards by the numbers: One Golden Globe win for Dallas Buyers Club; one Oscar win for Dallas Buyers Club.
His Edge: Between the Dallas Buyers Club, True Detective, and The Wolf of Wall Street, this seems to be turning into the Year of McConaughey. The man has become an unstoppable force.
Woody Harrelson, True Detective
Awards by the numbers: Three Golden Globe nominations for The People vs. Larry Flynt, The Messenger, and Game Change; two Oscar nominations for The People vs. Larry Flynt and The Messenger; one Emmy win for Cheers and three nominations for Cheers, Frasier and Game Change.
His Edge: McConaughey may seem like the favorite to win, but Harrelson has long been in the midst of a comeback. He's not to be underestimated.
It's going to be a tight race, that's for sure.