'Teen Mom 2's Jenelle Has Really Matured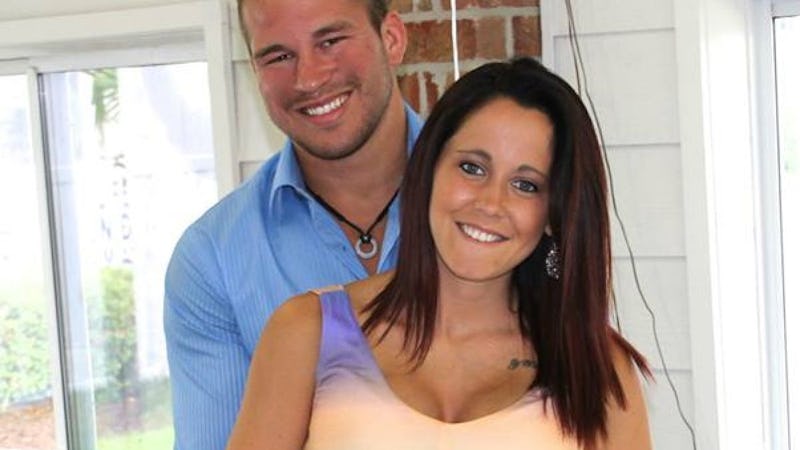 It's been about three and a half years since that first premiere episode of MTV's Teen Mom 2 on January 11, 2011. Since then, star Jenelle Evans has been through a lot. She recently divorced Courtland Rogers, is currently dating 26-year-old Nathan Griffith, and recently gave birth to their son. Looking at her today, Jenelle is living proof that a tiger can change its stripes. When we were first introduced to Evans, she was balancing her bustling social life and love of partying with caring for her young son, Jace. Not to mention, she was also nursing a volatile relationship with her mother, Barbara. But it seems some summer fun in the sun and quality time with her adorable sons has done some good for Jenelle.
Her Instagram is brimming with smiling photos of her and Jace. Her Twitter is filled with funny retweets, punchy one-liners, and plenty of pics. A few bumps along the way are expected, but I really think Jenelle is changing her life for the better, and couldn't be happier for her. Take a look at what Jenelle's been up to and see for yourself why the rest of this season of Teen Mom 2 should prove to be a more positive one for Jenelle.
She Had a Baby (And Went to the Beach)
Jenelle went from baby bumpin' to beach bummin' all in the span of about a week. Our girl was even rocking this same bikini top when she was pregnant and then again post-birth.
Evans gave birth to a super cute baby boy named Kaiser, Kai for short, just two weeks ago. Dad Nathan posted the most adorable picture of Kai's feet. Cue the chorus of Awww's.
Threw Shade At Her Ex
Take a page from the book of Jenelle. If you're going to throw a little shade via Twitter, don't name names, and find the humor in the situation.
HANDLED AN INTENSE FAN SITUATION GRACEFULLY
There will always be a few rotten apples that spoil the bunch. It was reported that a crazed fan saw Jenelle and Nathan's dog tied up outside, apparently during a rain storm. The fan accused the two of neglect and abuse and long story short, ended up stealing the dog. Jenelle and Nathan have gotten the dog back now and Jenelle handled the situation in a poised, graceful manner. The old Jenelle would've blown up about the situation, but new Jenelle handled the issue maturely.
ATTEMPTED TO MAKE MICKEY MOUSE PANCAKES
So what if this looks nothing like our favorite mouse? Jenelle may have to take a few cooking classes but she's been trying out a few new recipes. Although she hasn't perfected it, A+ for effort!
SPENT PLENTY OF QUALITY TIME WITH JACE
It's nice to see that even though Jenelle doesn't currently have custody of Jace, she spends a lot of time with her son.
CUDDLED UP WITH HER BF, NATHAN
Pregnancy is super exhausting, so Jenelle deserves a little TLC from her boyfriend. Lots of laying around in bed, relaxing, and some cuddling is totally necessary.
GOT STRAIGHT A'S
This photo was taken a few days before Kai was born. I don't think I could even manage a C average while pregnant, let alone straight A's. Kudos, Jenelle!
Well from where I'm standing, it looks like Jenelle is on her way to getting her life back on track. School, a newborn baby boy, a divorce, and a young son to take care of are a lot for anyone to handle, but Jenelle has proven that she's working hard to build a better life for herself and her family.
Images: MTV; j_evans8209/Instagram (7),Giphy