Turns Out, Mushrooms Aren't Just For Cooking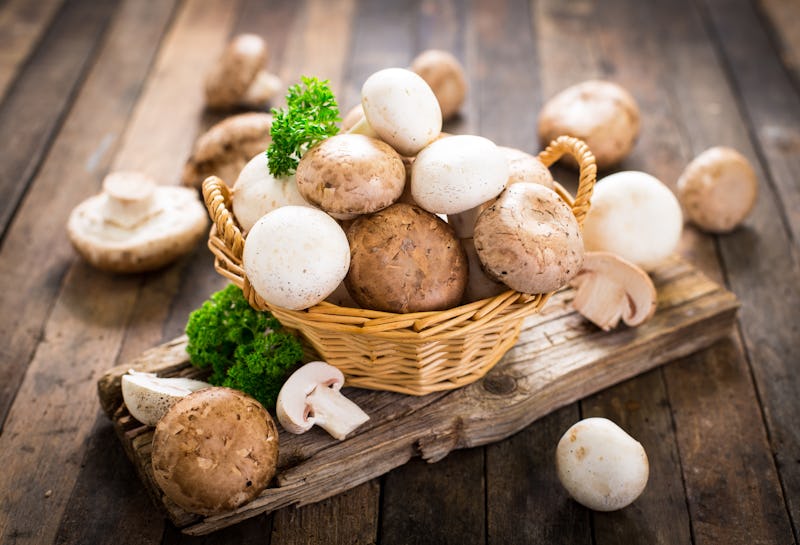 pilipphoto/Fotolia
Whenever I choose a pizza topping, my eyes seem to gloss over those hearty greens like broccoli or spinach and zero right in on mushrooms. This can also be the case with tacos and pasta sauces — I can't seem to get enough fungi in my life. Since mushrooms are a form of fungus and not a vegetable, I will admit that I'm among the many who've doubted their health benefits and assumed the only real thing they do is add subsidence and flavor for a dish. They aren't nearly as dense in vitamins and nutrients as many of the other veggies we should be loading up on this summer to combat dehydration for a healthy bod.
A few weeks ago, I was perusing in my father's elaborate vitamin cabinet when I found mushroom extract. I narrowed my eyes at the bottle and as I was scanning the ingredients popped a couple in my mouth and waited. After a few hours, it was obvious that I was not going to have a hilarious psychedelic experience that would give me all of life's insights and secrets. Dejected, I texted my dad to ask him why on earth he was taking mushroom extract if he wasn't tripping daily with my mother.
In my defense, the Mayan civilization used the psilocybin mushrooms for mind-altering religious experiences and I couldn't help assume that this was going on in the Jackson household — and by assume, I mean hope, of course.
As it turns out, my dad has been taking mushrooms for years to lower his cholesterol and protect him against free radicals. Mr. Jackson loathes free radicals. Mushrooms have some insane healing properties that have been known for centuries. They aren't just a gnarly fungi that add flavor and hallucinations; they have an insane amount of nutrients that are often overlooked by the masses. Loaded with copper and iron, these earthy toppings can be an added bonus to your haircare routine. Copper exists in all body tissues and sources say that copper is essential for pigmentation of our hair, skin, and eyes.
Don't get it twisted when you read BuzzFeed's article on mushrooms being a garbage food; certain mushies, as they are affectionately known as, are a natural anti-inflammatory with serious anti-aging properties. Due to their richness in B vitamins and potassium, you shouldn't be scared to use mushies in your cooking game on the reg. Several top-notch beauty companies that promote a natural skin routine have some amaze products with mushroom as their main ingredient. Origins has a line of skincare products dedicated to this super-fungi, but if you are trying to make your own skin regimens on the fly and on the cheap? You'll be pleased to know mushrooms are super easy for DIY beauty care.
With over 150,000 species of mushrooms that grow naturally around the world, it's hard to find the mushroom that will add the right flavor to your skin and hair routine. Sadly, if you suffer from certain auto-immune diseases, mushies are not going to be your jam as they can flare up symptoms in lupus, and if you're still going through treatment, they can cause a grim fungal-infection. Some sources believe that certain mushrooms can heal auto-immune diseases, but scientific evidence is lacking. Check with your doctor if you can introduce mushrooms topically into your beauty routine.
Mushroom Skin Brightener
Previously, I've written about the skin-lightening craze that has the whole world up in arms or shouting "Yay!" Many OTC products contain harsh chemicals that result in permanent skin deformations; the ones that are relatively safe can be hard to come by. Shiitake mushrooms happen to contain kojic acid, which is a natural skin-lightener that can be found in many of the "natural" brighteners on the market. First, let's extract our mushroom juice.
Take about a dozen raw shiitake mushrooms and wipe with a damp cloth. Soak your rinsed mushrooms in filtered warm-hot water to release their beautiful goodness. I use just enough water to cover my mushrooms in a large bowl, because you want your mixture to be potent with mushroom nutrients. Next store your mushroom juice in a nice container for future use and let cool. Once it's at least room temperature, take a cotton ball and apply gingerly all over your face and neck. Use this treatment daily for best results.
Mushroom Exfoliate
Shiitake mushrooms are not only great at lightening dark spots and acne scars, but they also contain anti-inflammatory properties that can help get rid of acne before the scares even develop. I take two teaspoons of my home-made mushroom juice and combine it with a third cup of brown sugar and a few pinches of tea-tree oil for scent and anti-inflammatory properties. Brown sugar is an excellent exfoliate that can wash away dead skin cells. One thing I can say for sure: You won't find a cheaper exfoliate than this one.
Mushroom Anti-Aging Cream
Reishi mushrooms are not just known for their anti-aging properties, they have natural antioxidants that are a major component to fighting pre-mature aging. These mushrooms rejuvenate dull skin by smoothing wrinkles and unwanted lines on our skin. This anti-aging cream will involve some work, if you want to truly DIY. Here's what you'll need:
1/2 cup of raw shea butter
1 tablespoon of home-made reishi mushroom juice
1 teaspoon of organic ginger powder
1 teaspoon of mustard seed
First, you'll need to cook down your raw shea butter, which is loaded with extra skin benefits like vitamins A, D, and E, until you have a buttery mixture.
Then you'll soak your rinsed reishi mushrooms in a bowl for 15 minutes to get your mushroom extract. Add your mushroom juice to the shea butter first and let them both cool, then mix in your mustard seed and ginger. I use mustard seed to increase the elasticity of skin and further reduce signs of aging. The ginger will not only get you smelling a lot less like an entree, but it also has some bonus benefits of antioxidant and antiseptic properties, making skin clogging from the heavy shea less likely.
This anti-aging cream is super-heavy, trust me. I personally use it on my neck, fearing loose-neck syndrome that inevitably occurs with aging. If you've found shea too heavy in the past for your face, feel free to sub out with mango butter.
If you're a former mushroom-hater or a current mushroom-lover, read up on some of the different mushrooms that you can you use for a healthy mind, healthy bod, healthy hair, AND healthy skin.
Images: Kristin Collins Jackson