Sure Looks Like Everything Is Fine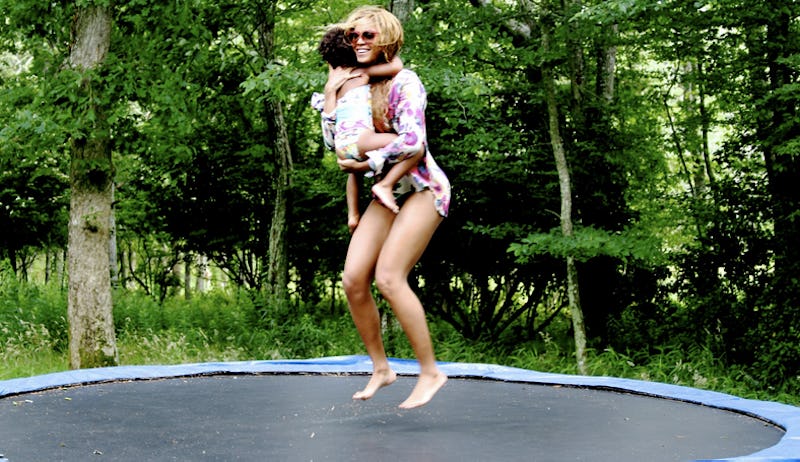 Guys, we should all relax. Beyoncé and Jay Z seem to be doing just fine. From the Met Gala Elevatorgate to the news about their counseling sessions, people have been speculating nonstop about the music power couple's relationship. Are the duo just dealing with the normal stresses of marriage or are they headed for a breakdown? Well, if these photos Beyoncé posted recently on her website are any indication, it seems like life for the Carters is a lot more serene than we think it is.
In the midst of a gigantic, high-energy tour and counseling sessions and whatever else power couples in the music industry have to do, Beyoncé and Jay Z also found time to really enjoy their summer with pictures of the couple and Blue Ivy in the midst of eating pizza in a garden, jumping on trampolines, and playing by the pool. If we should be gleaning anything about the couple right now, it's that their summer vacations are basically way better than yours, even when they're not doing anything extraordinary. Beyoncé even shared pictures of Blue Ivy coloring, and somehow she makes the act look way more stylish than when I used to doodle outside the lines in my old Disney Princess–themed coloring books.
See? Everything's fine! Blue Ivy's just chilling poolside with an awesome topknot. There is no reason to freak out. The pictures overall have a really calm tone, much different from the photos posted from their On the Run tour. And that makes perfect sense, because after performing a 3,000-song set list with 5,000 costume changes, all anyone would want to do is just hang out with their family and just enjoy a beautiful day.
So since we don't have any concrete facts about their relationship — i.e., no direct interviews with the couple, no divorce papers, no more documentaries about their life — let's all just take a moment to appreciate what we do have: Expertly taken snapshots of a family just enjoying each other's company.
Images: Beyonce.com (3)