Gordon Meets The Joker In 'Gotham'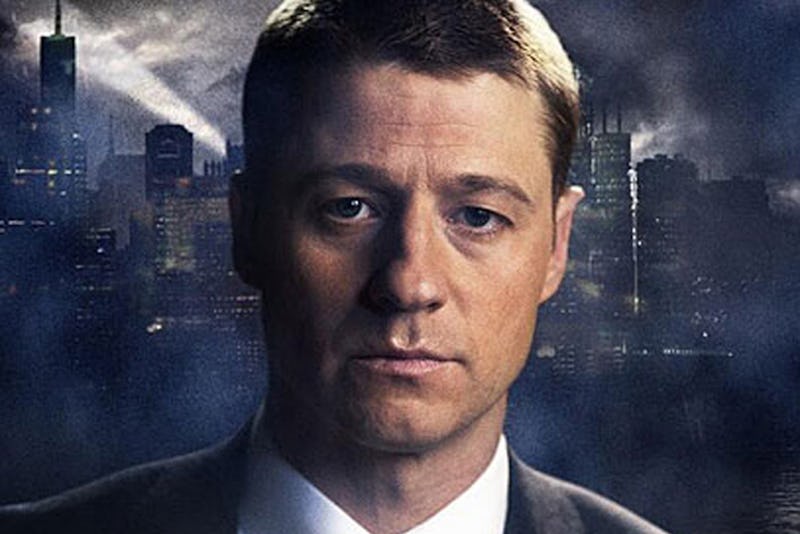 Gotham is the comic book TV show we all deserve and the one we need, which is why I can barely contain my excitement for Fox's dark new Batman drama. The trailer for Gotham hit the Internet in May and introduced us to a slew of younger versions of our favorite comic book "good guys," including leading man Jim Gordon (Ben McKenzie), 10-year-old Bruce Wayne (David Mazouz of Touch) and Harvey Bullock (Grounded For Life's Donal Logue). Of course, this wouldn't be a Batman story without some great villains — so far we've met the characters who would grow up to become the Riddler (Cory Michael Smith), Catwoman (Camren Bicondov) and the Penguin (Robin Lord Taylor). Now, Gotham 's latest teaser has hinted at another big bad — smile, kids, because Gotham's bringing on the Joker.
The new teaser shows Gordon walking through the streets of Gotham towards a crime scene, passing Gotham's current (and future) villains on his way. When he gets to the scene, he finds a newspaper on the ground. He picks it up and realizes it's the article about him making Detective — and that someone has written "Welcome Home" in red scrawl. Could it be the infamous Joker? It sure looks like it. Check out the handwriting comparison below.
What's the Joker doing in Gotham prior to the start of Batman's vigilantism? Though we don't know what path this version of the Joker will take, the comics do suggest a theory. One version of the Joker's origin story has the Joker begin his career in crime under the alias Red Hood. While robbing a chemical plant, Red Hood falls into a vat of acid, disfiguring his face. After the accident — which Batman's inference in the crime inadvertently led to — Red Hood adopts the alias the Joker. Perhaps Gotham will introduce us to the man who will become the Joker while he is still under the alias Red Hood, slowly working his way up to more and more dangerous crimes.
Gotham premieres Monday, September 22 on Fox.
Images: Fox (2); Warner Bros.