'Married' Star Judy Greer Might Finally Stop Being "That Girl From That One Thing"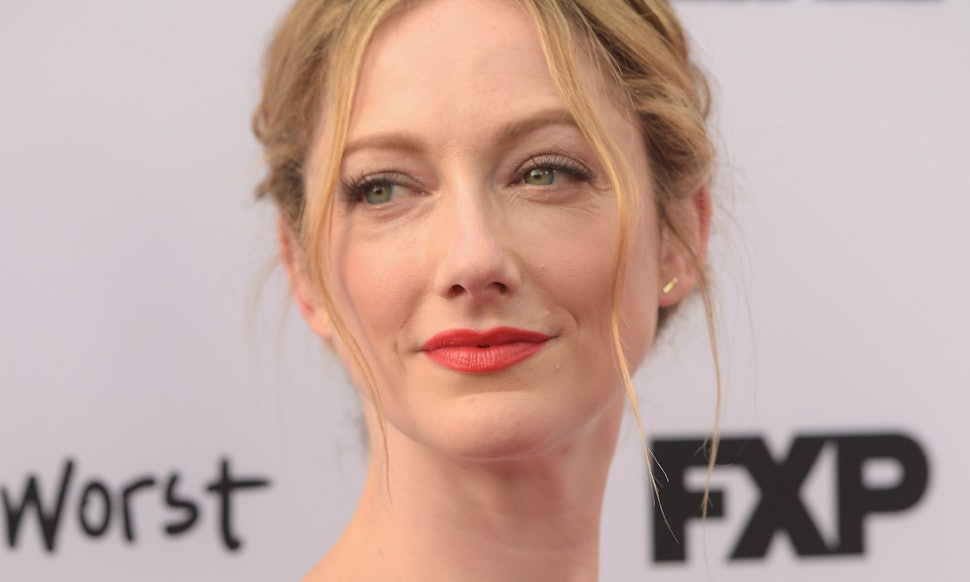 Jason Kempin/Getty Images Entertainment/Getty Images
The star of FX's new comedy Married, Judy Greer, has been working steadily in Hollywood for almost two decades now, yet if you showed her picture to a stranger on the street, they'd be hard pressed to remember her name. Greer's memoir, which she just published this past April, knowingly winks at this fact: it's cheekily titled I Don't Know What You Know Me From: Confessions Of A Co-Star. Though she's appeared in a wide array of genres, from romcoms to blockbusters to Oscar-nominated dramas, she's always been a bridesmaid and never a bride. It's time for that to change.
Greer finally has a starring vehicle in Married, which also features Nat Faxon (The Way Way Back) as her husband. She appeared in a major blockbuster this summer — though you may not have recognized her. She's voicing a character in Pixar's next film, The Good Dinosaur. She'll perform in Disney's mysterious Damon Lindelof/Brad Bird project Tomorrowland alongside George Clooney. And she's currently working on next summer's highly anticipated sequel Jurassic World. So, in preparation for her imminent break into the permanent spotlight, here's a refresher course on the Top 10 roles you kinda-sorta remember her from. (Don't you dare forget them this time.)
'Jawbreaker' (1999)
Greer appeared in this '90s dark comedy as outcast-turned-mean-girl Fern Mayo, who transforms into the exotic exchange student Vylette under the tutelage of Courtney (Rose McGowan), queen bee of the "Flawless Four." It's a veritable Cinderella story — except for the fact that the spot Fern is claiming was vacated when Courtney accidentally killed its former occupant with the titular hard candy. Jawbreaker was panned when it premiered, but it has since gained status as a cult classic.
Image: TriStar Pictures
'The Wedding Planner' (2001)
Greer's role in this beloved romcom was just the first of many "best friend" roles the actress would play throughout her career. Her well-meaning, frazzle-haired Penny may not be the most three-dimensional of the characters Greer would play throughout her career, but The Wedding Planner cemented her image as a trustworthy BFF… even if we couldn't remember her name. (She would repeat her sidekick role alongside Jennifer Garner in 2004's 13 Going On 30 and Katherine Heigl in 2008's 27 Dresses.)
Image: Columbia Pictures
'Adaptation.' (2002)
This bizarro Charlie Kaufman comedy was Greer's first part in a film that received major Oscar attention. (Nicolas Cage, Chris Cooper, and Meryl Streep were all nominated for their roles.) Greer played Alice, a kind waitress who was the object of Kaufman's (Cage) fumbling attempts at flirting. Her look of dismay as she realizes he's trying to ask her out is priceless.
Image: Columbia Pictures
'Arrested Development' (2003-2013)
Perhaps Greer's most recognizable role for audiences outside of the romcom crowd comes from this zany FOX (and later Netflix) comedy. As the fiercely loyal Kitty Sanchez, George Sr.'s assistant/lover, Greer both amused and repulsed us. Those lazy eyes! *shudder*
Image: 20th Century Fox Television
'The Village' (2004)
Greer took a brief break from romantic comedies to appear in M. Night Shyamalan's twisty thriller. Sure, The Village may have signaled the beginning of the director's decline, but it was still refreshing to see Greer in something that didn't involve dishing out relationship advice while sipping appletinis.
Image: Buena Vista Pictures
'Elizabethtown' (2005)
Cameron Crowe's saccharine flick may not have been well-received with critics for many reasons (not the least of which was Kirsten Dunst's performance as manic pixie dream girl Claire), but Greer — as sister to Orlando Bloom and daughter to Susan Sarandon — was certainly not one of them.
Image: Paramount Pictures
'Miss Guided' (2008)
Believe it or not, but Married actually won't be Greer's first television starring vehicle. Back in 2008, ABC aired this midseason replacement show, which featured Greer as an unpopular girl who returns to her old high school to work as a guidance counselor. Despite generally positive reviews ( Entertainment Weekly hailed it as "wonderfully absurd"), it failed to find an audience, and only seven episodes ever aired.
Image: 20th Century Fox Television
'Archer' (2010-present)
You'll never see Greer's face if you watch FX's profane animated spy comedy, but she has voiced Cheryl Tunt for all 62 of the show's episodes. Cheryl is the secretary to Jessica Walter's Malory, and over the course of the series, she's been proven to be absolutely batshit insane. A rubber cement-sniffing sadomasochistic pyromaniac with a half-billion-dollar inheritance, Cheryl is the polar opposite of Greer's usually put-together image. It's delightful to hear her cut loose every week.
Image: FX Productions
'The Descendants' (2011)
Greer doesn't pop up in Alexander Payne's Best Picture-nominated dramedy until well over halfway through, but once she does, she pretty much steals the show. As Julie, a woman unknowingly married to a philanderer (played by Matthew Lillard), her performance is accessible, vulnerable, hilarious, and heartbreaking. We're excited to see her on FX's comedy, but we also hope she saves time to appear in more dramatic roles like this one.
Image: Fox Searchlight Pictures
'Dawn Of The Planet Of The Apes' (2014)
Have you seen this summer's ape-tacular pre/sequel yet? If you haven't, you might not know that Judy Greer is in it. Actually, you might not know she's in it even if you have seen it, since she's playing a chimpanzee named Cornelia through the magic of motion capture. That's right: mo-cap isn't just for Andy Serkis anymore. (Coincidentally — or not — Greer and Serkis appeared together in 13 Going On 30 ten years ago.) Cornelia doesn't have terribly much to do in the film, but she is married to main-ape Caesar, which basically makes her queen. Quite a step up from J.Lo's frumpy best friend, no?
Image: 20th Century Fox