14 Questions About Kim's Game, Answered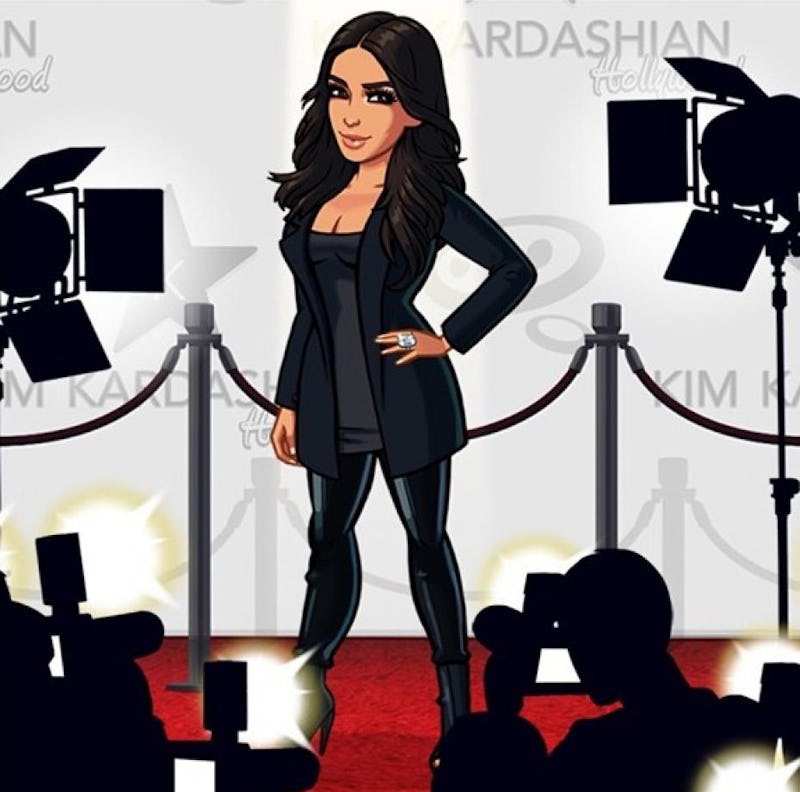 When it was first announced that Kim Kardashian was making an iPhone game, there were so many questions to ask. Bustle's Alicia Lutes was curious about things like, "Does Kanye West think this is the greatest video game of all time or THE GREATEST VIDEO GAME OF ALL TIME?" and "Why is it that these avatars look to be in permanent selfie-pose mode?" Also, "Does she understand the ramifications of her actions at all, ever?"
While we still don't know the answers to those (and probably never will) there are some things I do know the answers to after playing pretty much non-stop since it came out. Even for someone who plays the game and makes it to the A-List, there are still so many questions left to answer. (Like, why does the game basically force you to do a nude photo shoot?) Fortunately, I'm too addicted to the game to feel shame, so I have all the answers for you.
Whether you actually need help in the Kim Kardashian: Hollywood, or you're just looking to make fun of the finer details of Kardashian's digital life, I've got you covered. From the serious to the silly, here are 14 questions I asked myself throughout the game, and can now give attempt to give answers to.
CAN YOU PLAY WITHOUT PAYING?
(This GIF is eight times funner after you play the game and it forces you to give her a dress for free.)
Kim Kardashian's game is on track to make her $200 million because of the in-game purchases. It costs money to get more energy, to get more money, to get more coins. It costs money to buy cool outfits or afford a mansion. But can you play the game without spending real life cash?
Yes, it just takes longer.
Instead of forking over money to get more energy, try tapping the fire hydrants, restaurant signs, and pigeons. At each location (Miami, Las Vegas, etc.) there are three things you can tap and they'll give you money, points, and energy. It takes a little more time, but then at least you can spend your real money on real things now, instead of digital clothing.
WHAT'S YOUR RELATIONSHIP WITH KIM LIKE?
Well, one day Kim walked into my store and was all like, "I need a dress but I see you're closing, can I come in anyway?" And I was like, "OMG Kim!" Because duh. And then I helped her pick a free dress and we became BFFs. Now, she gets me modeling gigs and sets me up on dates and yes, sometimes I even have to be her therapist. (Here, she was sad because her earrings went missing. Sound familiar?)
DO YOU GET TO MEET ANYONE ELSE FROM THE FAMILY?
Nope. Kim makes references to both her "Momager" and "Yeezus" throughout the game, but you don't actually get to pal around with Scott Disick or Khloe Kardashian. That would actually be a much better game.
IS KIM REALLY TRYING TO SUGGEST SHE WORKS THIS HARD?
Ugh, when I finish a modeling job and Simon (my manager) calls me with another job, I get so annoyed. I don't know if this is Kim trying to say she does the same, but I just don't buy it. What I'd love to happen is to get a mani-pedi after a tough job, like I'm sure Kim does in real life.
HOW DO YOU GET MORE K STARS WITHOUT PAYING?
Star points are impossibly hard to earn. I can't tell you how many times I had to breakup with my girlfriend because I didn't have enough star koins to "charm" her into staying with me. (Yes, this game does, at least, let you date whichever gender you want.)
While you do get one every time you level up, you can get more for free by clicking the plus sign next to the stars. But instead of buying any, click "get free stars." I recommend you watch the 30 second ads to get the points because if you fill out the "other offers," your email will get sold to a bunch of random ad companies and you will regret everything.
IS BUYING A CAT WORTH IT?
No. Forking over 20 star points to this stray cat was one of the worst decisions I made in the game. Yeah, it gives you energy if you pet it, but only once, like, every six hours or something. Those random street pigeons are more helpful, and I didn't have to pay shit for them.
WHAT HAPPENS WHEN YOU HIT THE A-LIST?
Not a whole lot. You keep playing the game until you get tired of it and delete it off your phone, I presume. The jobs you get are more high profile and Kim hangs out with you a little more, though. Oh, and all the nobodies you meet in bars want your number.
CAN YOU GET MARRIED?
To be honest, I've never stuck around in a relationship long enough to see, because dating costs too much money and energy. But I'm guessing you cannot. Planning an A-List wedding would be a cool feature, though. Someone tell Kim's design team.
WHY ARE DATES SO RUDE?
Seriously though, I have to foot the whole bill of our date, so why are you dissing my outfit? Turns out that if you wear an outfit with a gold heart on a date, you'll get a compliment and probably a point bonus. Same goes for the gold stars on jobs.
Basically, the intention is to keep you buying clothes because you're a star, and you can't wear the same thing more than once. (Bah, has Kim never heard of style maven Kate Middleton, Queen of Recycling Outfits?)
DO ANY OF KIM'S FAMILY MEMBERS REALLY PLAY?
Yep. Lil' sis Kylie Jenner is just as addicted as I. But she's cooler, because she can actually afford to pay real money for stars and have a better dressed avatar. Sigh. Even in the digital world I'm lamer than the Kardashian/Jenner fam.
WHAT'S WITH THESE PRICES?
You can fly to Miami for $15 but it costs $20 to take a bus to Calabasas. This is also a world where a plain sweater is $1,100. No thanks, instead I'll just fly to Miami 73 times, please.
WHO IS WILLOW PAPE SUPPOSED TO BE?
My in-game nemesis Willow Pape is totally obsessed with me because she thinks I hit on her boyfriend. I didn't BTW. I have an in-game girlfriend. (For now, until it costs too much to keep dating her.) Regardless, Willow has it out for me and she reminds me a lot of a certain other celebrity. *Cough cough* Paris Hilton, who also threw a lot of shade Kim's way.
WHERE IS KIM ON THE RANKINGS LIST?
I'm #1 in the game, which means I beat Willow (hah!) but where is Kim on the rankings? Did I beat her, too? Is she not on there at all because she's the perma-fairest of them all? Ugh, I just want to beat Kim at her own game, is that so much to ask?
WHY DID KIM WANT YOU TO LOOK LIKE AN ASS ON YOUR BIRTHDAY?
I know, right? That dress was ugly and I was way overdressed for my party because I was in a floor length gown and Kim showed up to my party in leather jogging pants. Kanye West strikes again!
So there you have it. That is my brain on Kardashian. Now if you'll excuse me, I have a photo shoot I need to finish.
Images: Kim Kardashian: Hollywood; E!, starcrush; Jesse Berney/Twitter; imgfav; giphy (2); lipsticklesbian, kimkardashian-hollywood, kardashianwood/Tumblr; collegetimes