Marie Curie Doll > Barbie Doll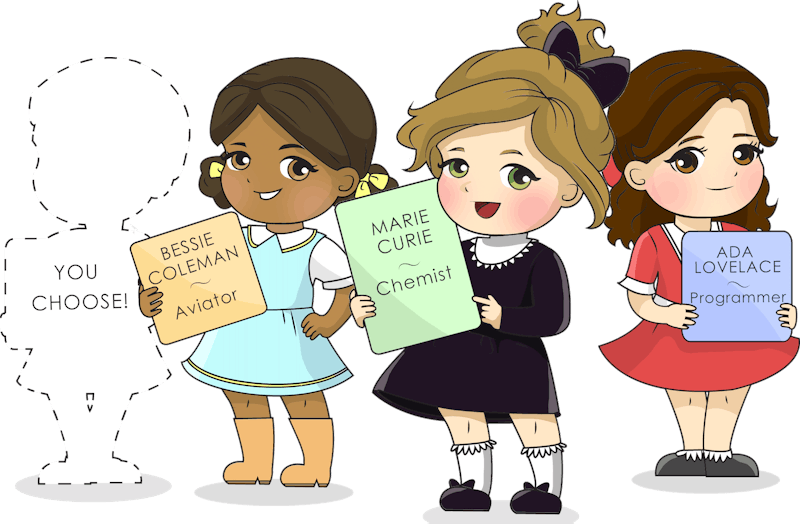 It's mostly an accepted fact now that dolls like Bratz and Barbie present an unhealthy, unrealistic image for little girls to emulate. (After all, if Barbie were real, she would have to walk on all fours and would only have half a liver) However, toy makers and innovators are starting to get the message that a new wave of entirely different toys makes for better playtime material. Miss Possible, a line of dolls created by two University of Illinois alumnae, is set to show girls an entirely different message about their abilities and dreams.
Supriya Hobbs and Janna Eaves, the line's co-creators, met while studying engineering at the University of Illinois. As minorities in the STEM field — only 24 percent of scientists and engineers are women — Hobbs and Eaves wanted to make something that would change the ways that young girls thought about themselves in relation to fields like chemistry, aviation, and programming. Their answer? Manufacturing dolls of women throughout history who have been ground-breakers and leaders. To make their dream a reality, they began an Indiegogo campaign in order to fund the production of both the dolls and an app that would come with each purchase, allowing kids to play games that "bring the woman's work to life."
"We want to increase the number of people who change the world, and we think there are a lot of girls with the potential to do that," Hobbs and Eaves wrote on their Indiegogo page. "We are going to help them make that jump from potential to reality!"
Their first doll is Marie Curie, the Nobel Prize-winning chemist and physicist who contributed crucial research on radioactivity to the scientific community:
Following Marie Curie will be dolls of Bessie Coleman, the first female, African-American pilot, and Ada Lovelace, the first computer programmer. (Side note: I am just now realizing why Bustle's content management system is called Lovelace. D'oh. Someone get me a Miss Possible!) So far, the duo has raised a little more than $14,000 of their $75,000 goal. They offer plenty of cute packages for donating a certain amount, just FYI!
The emergence of dolls like Miss Possible follows a trend of toys that focus less on preconceived notions of gender roles (LEGOs for boys and dolls for girls, for example) and more on teaching girls and boys to appreciate innovation, resilience, curiosity, and positive body image. For example, Lammily is a doll based on the proportions of the average woman, while IAmElemental toys set aside the unrealistic proportions of female superheroes for dolls that are "more heroine than Hooter's." Perhaps the most well-known example of this type of toy is Goldieblox, which is a Lego-like construction set meant to inspire potential female engineers. The makers of Goldieblox have actually served as mentors to Hobbs and Eaves, Hobbs told STL Today:
"I was surprised how much they were willing to help us," Hobbs said. "We're all sort of working toward the same thing. That makes it more of a collaboration than a competition."
Whatever the case may be, I want a Miss Possible. Even though I'm, er, 20. And should probably be working making my resume look spiffy instead of playing with dolls.
Images: Miss Possible/Indiegogo (3); gif-jif/Tumblr