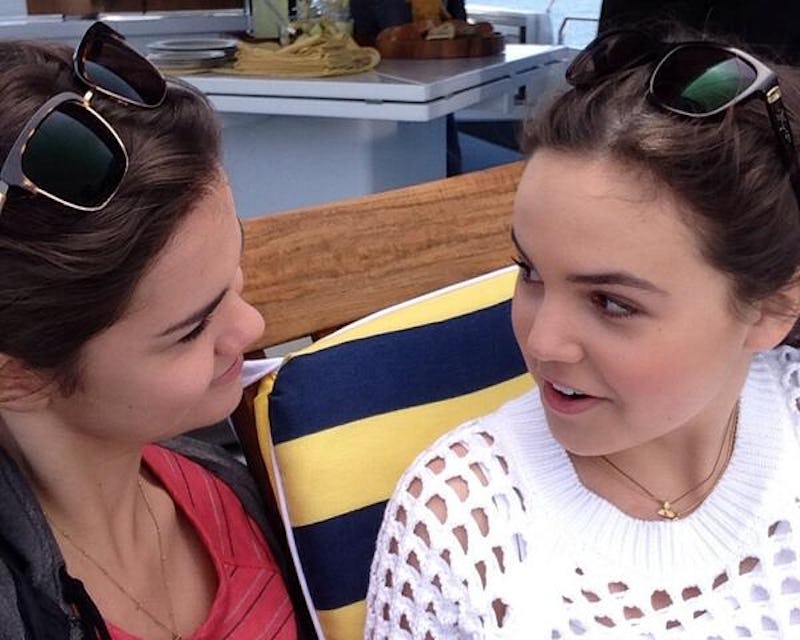 On The Fosters, Callie's relationship with her newfound half-sister, Sophia, is complicated. Sure, Callie (Maia Mitchell) and Sophia (Bailee Madison) seem to get along well enough. (Okay, they're actually adorable.) But it's all wrapped up in Callie's relationship with her biological dad, which is less clear, and it affects her relationships with her other siblings, like Jude.
In real life, though, there's no such ambiguity. Mitchell and Madison love playing sisters. It's a total mutual admiration society. And why wouldn't it be? The two have had pretty similar careers, both having big roles on the Disney Channel. Madison is known for The Wizards of Waverly Place, while Mitchell was in Teen Beach Movie. It's actually kind of a shocker that they haven't worked together before.
Madison also makes perfect sense as Mitchell's sister because the two look so much alike. So much so that people have asked if they are sisters in real life. Madison takes it as a huge compliment. "I love Maia and she is so beautiful so the thought of anyone even thinking I look like her is just an incredibly kind compliment," she told Sean Daly.
In fact, Madison told Teen Vogue how the two actually started a friendship because they are often confused for each other on the street.
"It was crazy because Maia and I had gone back and forth on Twitter a year before the show," Bailee says."She would write me telling me a girl came up to her hyperventilating because she thought she was Maxine from Wizards, and she thanked her on my behalf. Then I'd be like, 'No joke, I was just in Catalina and girls were screaming at me because they loved you in Teen Beach Movie, and I also thanked them on your behalf.' When they told us we were playing sisters, I was jumping for joy."
Madison isn't the only one thrilled by her addition to the show. Mitchell had her turn to gush, this time to Shine On Media. This interview took place before the big plot reveal, so Mitchell isn't actually allowed to say who Madison is playing, but that doesn't stop the compliments from flowing.
"I'm older than her, but I remember being 10 and being like, 'Wow, this girl looks like me, but I want her life," she say in the interview. "She's ridiculously talented and the sweetest."
Aren't they just the cutest? They're like actual sisters, but without any of that pesky sibling rivalry getting in the way.
The funniest thing is that Madison actually has a sister in showbusiness: actress Kaitlin Riley. She's had a few roles in movies like From Justin to Kelly and Monster.
Riley is ultra-supportive of her little sister, constantly tweeting about Madison's current shows and uncoming projects. And while you can see a family resemblance, she Madison and Mitchell can actually pass for twins a lot easier than Madison and her actual sister.
Image: Bailee Madison/Twitter