Will Chris Behave On 'Bachelor In Paradise?'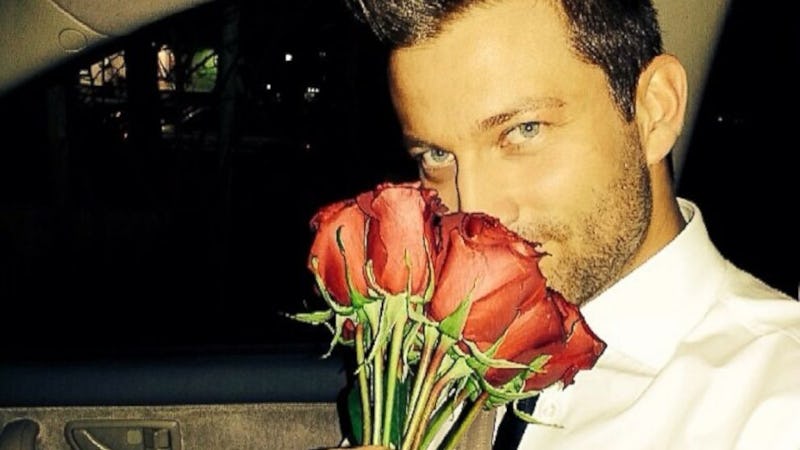 If you thought you had seen the last of Chris Bukowski on the Season 10 Premiere of The Bachelorette, then you are definitely going to be in for a little surprise. That's right. Bachelor In Paradise is bringing back some of the heartbroken hotties from Andi's season, including but not limited to Marquel Martin, Tasos Hernandez, Marcus Grodd, and Cody Sattler. Oh, and I forgot to mention America's Sweetheart from Emily Maynard's season Chris Bukowski will be sauntering back onto our TV sets.
Host Chris Harrison promised all of the drama and trainwrecks that we Bachelor/ette fans have come to love, along with some new twists. When Chris promises drama, I can't help but think some of it will be coming straight from Bukowski. He has quite the storied history of making a scene, telling lies, going behind people's backs, dating/wooing multiple girls at a time, and being a bit selfish. Throw someone like that into the mix with a large group of guys and girls all looking for love in paradise and you're sure to get exactly what you asked for. Now let's not be hasty, Chris isn't all bad, but I've come to expect certain things from him after many TV appearances.
Here's why I think Chris will inevitably wreak havoc all over Bachelor In Paradise:
HE'S ALREADY STIRRED UP DRAMA BEFORE BACHELOR IN PARADISE HAS EVEN BEGUN
Cody had issues with Nick being cocky and presumptuous, but he hasn't even encountered Chris, who is most definitely the King of Cockiness. Maybe some guys on Bachelor in Paradise will harbor hard feelings over Chris' attempt to sneak into The Bachelorette Season 10 roster. Then again, can you blame someone who's friends with Luke Bryan for trying to crash a party?
HE'S MANIPULATIVE
In an interview with People, Chris revealed his tactics for trying to win on Bachelor Pad 3,
In real life, I'm not a mean guy, but I was presented the opportunity to win a lot of money so I'm going to do what it takes to win. You've got to lie and play the game. You can't be nice to everybody.
Will Chris use the same sort of tactics on Bachelor in Paradise? For someone who is a self-proclaimed professional third wheel, it seems pretty obvious that he'll poke his nose into a few different relationships this season.
HE CAN'T HELP BUT LIE
When asked about why he chose to crash The Bachelorette season premiere, according to TMZ, Chris immediately threw the producers under the bus, "They made it seem like they didn't know I was coming, but they knew." He said they not only knew he was coming, but the producers themselves came up with the idea. I smell a scandal. But wait! Chris Harrison, who I trust inherently, told TV Guide that Chris showing up wasn't staged, and if it had been, they at least would've produced it better. Now I don't know who to believe (but I'm leaning towards Chris Harrison).
HE CAN BE MEAN-SPIRITED
Chris was heartbroken when Emily Maynard didn't choose him during her season, as anyone would be if you get to Hometowns. Instead of dealing with it before entering Bachelor Pad 3, he brought that baggage with him. He gives off a bit of a self-centered, my-way-or-the-highway kind of vibe. Some of the women in Paradise will definitely be deterred if he lets that mean side show.
HE'S A CHARMER
Chris is very similar to another silver-tongued Bachelorette contestant that we know. He was notorious on Bachelor Pad 3 for lying to not only his partner, but fellow players on the game show. He was right when he said Bachelor Pad 3 isn't about love, it's about money, but he hurt some people's feelings and overstepped boundaries he didn't need to. He knew all the right things to say and exactly who to say them to. We'll definitely be seeing some reappearances of Chris' charming side.
HE'S A PLAYER
Between Jamie, Blakely, and Sarah, Chris had his hands quite full on BP3. Will he take a similar approach on Bachelor In Paradise, or will he have his sights set on one girl only?
Everyone was all smiles about a week ago when this picture was taken, so maybe Chris has changed. They always say don't judge a book by its cover, but I can't help but think that Chris is the same old guy he's always been. I'd love to see a less jaded version of him, who's really ready to find love and settle down. But then again, I won't hold my breath.
Images: ABC; chrisjbukowski/Instagram (3)