Who's That Girl? No, Really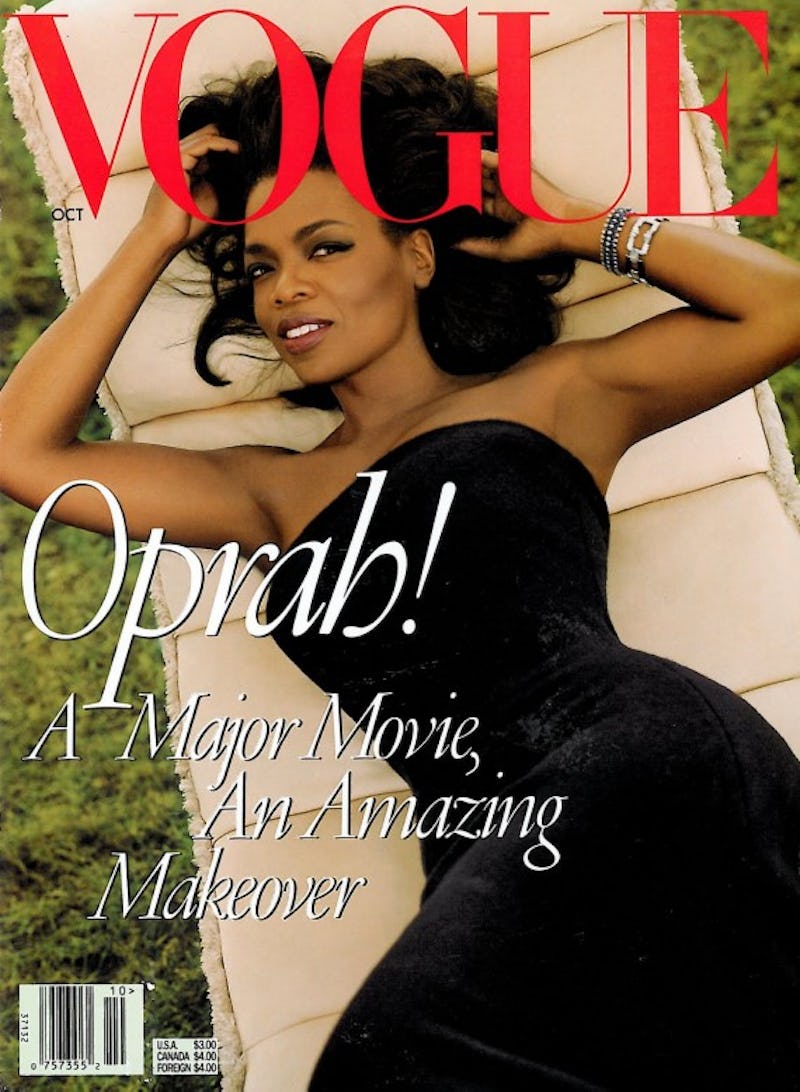 We've all seen photoshop fails that could make even the most unaware consumer cringe. We've put up with crotchless swimsuit models, armless poses, super skinny bodies from print ads, and models who look as if they lost their toes. From artificially poreless skin to hair with not a wisp out of line, there are unrealistic views of beauty and how models and celebrites look everywhere. Even though certain organizations and brands are striving to combat the negative body image that comes along with the territory, it hasn't been diminished completely. As technology advances it seems like the photo-altering is getting better...and also worse. It can be more subtle, but in the wrong hands it can get a little overboard. But what was photoshop like in the past? The '90s were a time of bold fashion and straightforward makeup, but the photoshop that we can see on magazine covers from the decade is anything but straightforward or natural.
Recently, Allure reposted a photo from Reese Witherspoon on Instagram of the star's 1999 May cover. The image had Witherspoon in a desert with blue sky and flat lands behind her, but what was most striking about the photo was that the face on the front of the magazine didn't even look like the future Elle Woods. Between weird Photoshop choices (before we were really caring about that sort of thing), awkward styling, and some pre-2000 beauty blunders, check out the 7 basically-unrecognizable celebs featured on covers in the past.
1. Reese Witherspoon, Allure, 1999
2. Oprah, Vogue, 1998
Oprah is basically a queen, but this cover looks nothing like the superstar we know and love. Something about her facial structure just doesn't look very Oprah, and who wears a velvet evening gown on a lawn chair, anyway?
3. Claire Danes, Seventeen, 1996
At first I honestly thought this was Kristin Cavallari, star of Laguna Beach, and couldn't understand how the '00s reality-tv star made the cover of Seventeen at such an early age.
4. Gisele Bündchen, Marie Claire, 1998
Liv Tyler? Is that you? This cover of Marie Claire Brazil features a little model named Gisele Bündchen. With dark brown hair, she passes for another celeb, but those eyes give her identity away after a careful inspection.
5. Heidi Klum, Cosmopolitan, 1999
The Project Runway star's hair is a natural tousled blonde instead of the brighter blonde she's come to make her own. Other than the obviously dated outfit, her hair is a clear giveaway that this cover is from a different time.
6. Rebecca Romijn, Marie Claire, 1992
Marie Claire France dressed Rebecca Romijn up in high-waisted belted jeans, an open blouse and lacy bra and a totally stereotypical French scarf around her neck. It's been a while since we've seen her locks cut so short, making the X-Men star look like a completely different person.
7. Adriana Lima, Marie Claire, 1998
As a curly-haired girl myself, I love to see stars sport swirling locks. The curliest that I expected Adriana Lima's hair to be, however, was slightly curved with those Victoria's Secret Model waves. The model embodies the '90s with this shoot, one spaghetti strap, neck scarf, short bowl cut and all. I could hardly recognize her without her long, straight locks.
Images: Allure_magazine/Instagram; Vogue; Seventeen; Marie Claire; Cosmopolitan