He's Running the Same Scams, Just With a New Name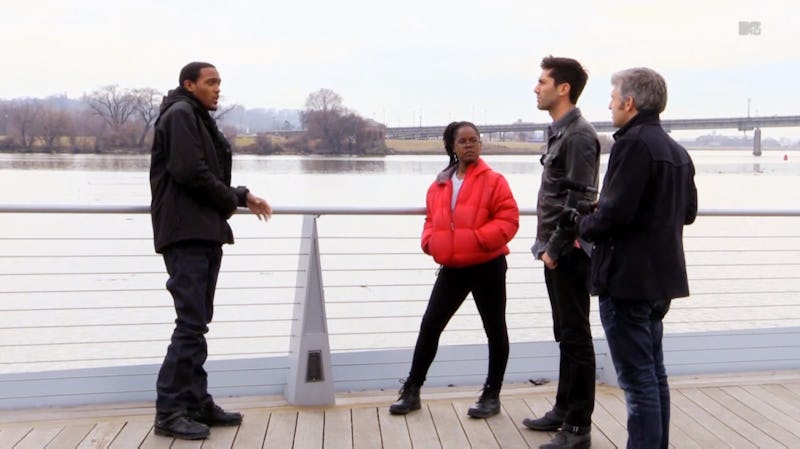 It was the phone toss heard 'round the world. When Nev and Max confronted "Kidd Cole," a supposed rising hip-hop producer working with the likes of Kanye West, about all of the lies and all of the money he had scammed catfishee Lucille, lovable limo driver Loretta Brown, and who knows how many others out of, all Cole could do was look at his smartphone on the May 28 episode of Catfish: The TV Show . Thankfully, Nev did what we all wished we could do and threw it in the water to try and get Cole, whose real name is Jerez Coleman, to pay attention and his actions.
Later on in the episode, Nev and Max scored a small victory when Coleman opened up about his past in a shelter and his feelings of being put down by people who did not believe in him, which led to his catfishing ways. However, he still tried to pass off a faux recording session as legitimate to Nev and Max, and we learned that he was apparently still scamming people in the epilogue to the episode. Have things gotten any better for Lucille, Brown, Coleman, and humanity as a whole? From the looks of it, not much has changed, unfortunately.
Since the filming of Catfish, it looks like Coleman has continued scamming people, changing his producer alter ego from "Kidd Cole" to "King Cole" to "Cole Pushaz," presumably to escape the bad reputation each new name has gained on the Internet and now from the Catfish episode. His story has also changed. On the episode, Coleman claimed he was signed to West's music label, G.O.O.D. Music, but he has since claimed to be linked to Pushaz Ink and Island Records. He has also changed his Twitter handle from @Kidd_Cole to @IamWhoGodMadMe to @_TheHighest.
All of these accounts are currently suspended, and the Instagram account for colepushaz has been made private. However, you can still listen to all of "Kidd Cole"'s music on his SoundCloud page. The rap Nev tried to record does not seem to be on there.
Much of Coleman's wheelings and dealings are captured on the Facebook page that was also featured on the Catfish episode, "KIDD COLE AKA KING COLE SCAM Artist," which is administered by Brown. In addition to her own bizarre videos directed toward Coleman where she lip syncs to James Brown songs and recites poetry, Brown updates the page regularly with screenshots of Coleman's social media activity, where he recently claimed to be working with artists, such as Nicki Minaj, Justin Bieber, and Harry Styles. While it's clear that Brown wants Coleman to receive his comeuppance, it almost looks as if she's using the Facebook page and her appearance on Catfish to publicize her own performing career under her stage name "SPOOKY." But then again, she deserves fame much more than Coleman.
Those who have been scammed by Coleman may be able to rejoice soon enough. According to the Richmond Times-Dispatch, Coleman was charged for identity theft/fraud for allegedly scamming Virginia Commonwealth University into thinking he could arrange for rapper Big Sean to perform on the campus. The paper reports that Coleman used a limo to get to the event, which he was never paid for, and he spoke to the students in a British accent when he told them Big Sean would not be able to perform at the school. Coleman will be undergoing a mental evaluation prior to the trial, and another hearing is scheduled for Aug. 8.
There's not much news on what Lucille is up to these days. At the end of the Catfish episode, we learned that she was pursuing a criminal justice degree, which seemed all too appropriate. Although Lucille hasn't really been in the public eye, we can only imagine that she's happy to let Coleman and his schemes take the spotlight.
Images: MTV; ethan-the-ginger/Tumblr; KIDD COLE AKA KING COLE SCAM Artist/Facebook