Who Was Best Dressed in "The Silence of E. Lamb?"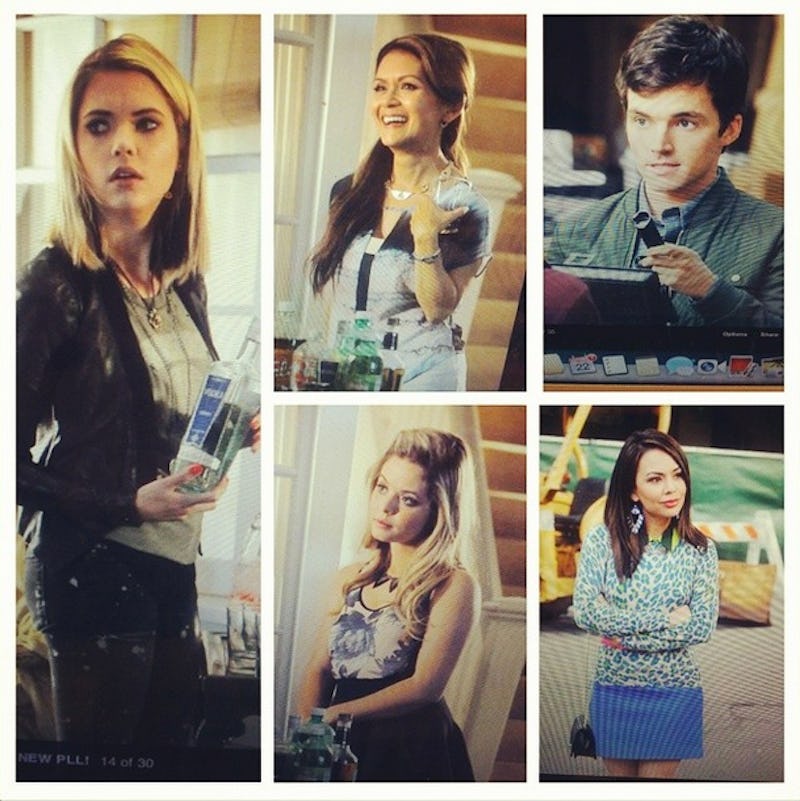 Last night's episode — the cleverly titled "The Silence of E. Lamb" — featured more dead rats (eurgh), more Drunk Hanna (delightful, as always! Though should we be worried? I'm getting shades of Season 3, post-Maya, Emily), more seriously creepy artwork of Mrs. DiLaurentis (*shudders*), more surveillance (Oh, Ezra), and of course, a divisive text from 'A' (man, if looks could kill, Hanna would be dead, because Aria's death stare was so intense it was almost tangible). So, all in all, a normal week in Rosewood, eh?
Early on, we were treated to quite the tableau of outfits: the girls had one of their signature bathroom pow-wows (and what secret bathroom rendezvouz is complete without someone secretly listening in from the stalls? This time, it was sneaky swim team member Sydney/Jenna's possible secret twin that was doing the snooping). Let's review:
Ali
Ali seemed to be sticking to her blazered queen bee duds — this time with a cowl scarf, artfully draped to hide her post-'A'-strangulation bruises. Ouch. To be fair though, the outfit was much cuter sans blazer, which she thankfully removed for dinner at the Fields's. It turns out her V-neck floral tank, circle skirt, and statement necklace were actually pretty cute.
Damsel in Distress 101 with guest lecturer Alison DiLaurentis.
Aria
Aria brought the color to the bathroom meeting with a pink tie dye shirt with black accents. Later in the episode, we also got to see her Radley volunteering outfit, which was also surprisingly cute — she wore a striped tank top paired with a olive green army jacket, skinny jeans, and a leopard print purse... when she wasn't wearing the unfortunate volunteer smock, that is.
Hanna
Hanna was still rocking her punked-up look with an olive green graphic T, black skinnies, and necklaces galore. This week, she committed to her new look even further by adding a vampy burgundy lipstick (as opposed to her customary pink lip gloss).
Did I mention that Drunk Hanna is kind of awesome? (I did).
Emily
Emily looked as athletic as ever in a blazer artfully layered with a heathered sweatshirt. For dinner, she changed into an adorable little camo sleeveless button down.
Nice save, Em.
Spencer
Spencer looked absolutely fabulous in a white silk Oxford shirt with a graphic black stripe across the front, tucked into a textured skirt over black thigh highs. One of her best looks of the season, IMHO.
Whew. That is a lot of clothes. But who takes home top prize?
Mona
Armed with her blue, green, and gray neon-accented leopard print sweater, (which was paired with a lovely cobalt blue mini and a hot pink patent leather skinny belt for a pop of color), Mona was poised for victory. It was kind of like Lisa Frank stationary personified, in the best way possible.
Runner up: Pam Fields, who killed it in a gorgeous blue gray silk blouse!
Images: mandiline/Instagram; IMDb; iwasalwaysromantic, teddywestside, saii79/Tumblr