This Is Your '80s Fitness Dream Come True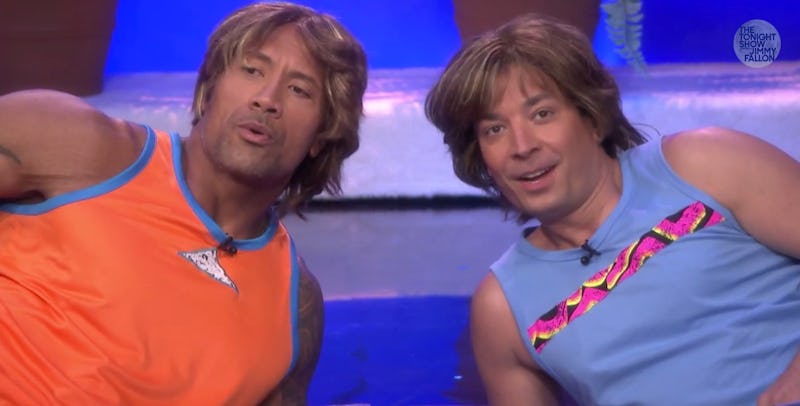 Another day, another epic The Tonight Show With Jimmy Fallon clip from last night's episode to get us going through this seemingly endless weekday morning. This time, it involves none other than The Rock, who stopped by The Tonight Show to promote his upcoming film Hercules. Of course, the most obvious question to ask a guy who looks like The Rock is how he got in even better shape to play a role that involves at least 95% of screentime to be spent without a shirt on, and sure enough, that question came up during the interview. And, surprisingly, instead of giving the standard answer of working out a lot, eating lean meats like grilled chicken breast, and staying hydrated, The Rock brought up a set of workout VHS tapes he used by "The Fungo Brothers." Interest piqued.
"Oh, I remember The Fungo Brothers! They were really ahead of their time," Fallon responds, and then wastes no time airing a clip of one of "The Fungo Brothers'" workout tapes...which, of course, consists of himself and The Rock clad in total '80s gear, working the thighmasters like nobody's business. Then, of course, there's also a clip two, which I won't spoil for you because the hilarity is better experienced firsthand. Check them out below.
Image: YouTube