'Big Brother' Must Do the Right Thing for Frankie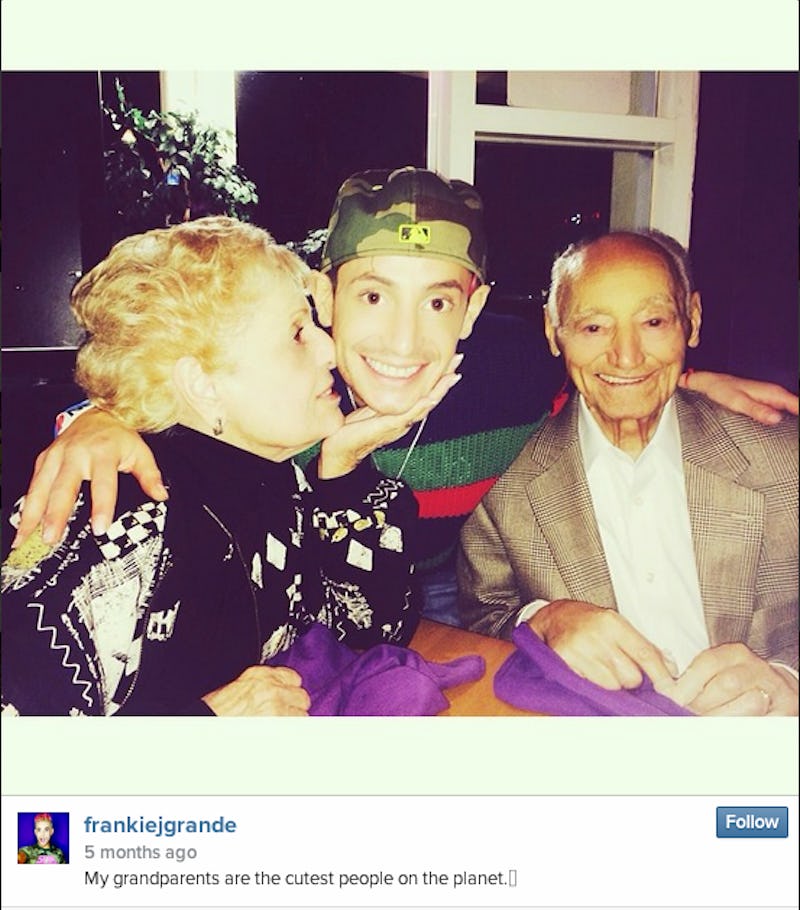 It is a sad day for the Grande family, and those who love them. This morning, Ariana Grande broke the devastating news that her and Frankie's grandpa passed away on Tuesday. In a series of tweets, Ariana thanked fans for their continuous love and support, and said how much she will miss him. Their grandpa was very present in their lives, as fans often saw on both of their social media accounts. Losing a family member is already difficult enough, but since Frankie is currently in the Big Brother house, it becomes even harder, as contestants are not supposed to have any contact from the outside world and are constantly being watched by cameras.
It only seems fit that Big Brother informs Frankie of his grandpa's passing, in the most appropriate way possible. Sadly, this has happened in past seasons of the show, and Big Brother has set a precedent of telling the houseguests of the news. In season 13, "Evel Dick" Donato had a personal emergency while he was playing Big Brother (he won Season 8), and left the house upon receiving the news. Here is his statement from Zap2it on how the news was broken to him:
I was summoned the Diary Room and the producers gave me some bad news about somebody I was very close with. Actually, they didn't even come on to the PA in the Diary Room, they came inside the Diary Room. It was an emergency that required my immediate attention. There was no second thought. I had to leave and they understood completely. I thank them for their understanding and their concern, it means a lot to me. As a matter of fact, they've contacted me a number of times since leaving to see how I'm doing and make sure everything is OK. I really do appreciate how they're helping me out.
Due to the nature of Frankie's loss, it only seems right that the production staff on the show would inform him the same way they did for Evel Dick. What it means for his game is unknown, and will be his decision. Whether he decides to leave the house to be with his family, or continue playing should only be decided with his and his families' best interest in mind.
And although the decision will be Frankie's, Ariana Grande tweeted out to her fans that when asked if he wanted Frankie to be pulled from the house, their grandpa said "No way!"
Our thoughts are with Frankie, Ariana, and their family. We hope to see Big Brother treat this heartbreaking news with the sensitivity it deserves.
Image: Frankie Grande/Instagram