Is Kim K's iPhone Game Actually Free to Download?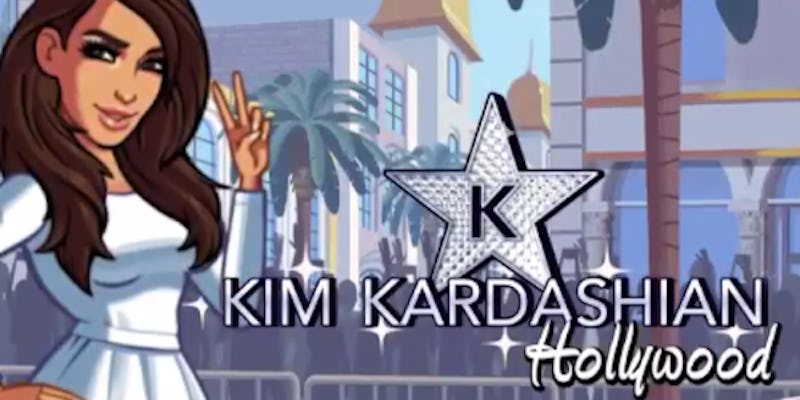 They say the best things in life are free, and everyone's favorite shockingly fun iPhone game is no different. If you're anything like me, you resisted downloading Kim Kardashian: Hollywood for as long as you can. For one, it sends entirely the wrong message about what's important in life. For another, it is sending an estimated $85 million directly to the infinite, insatiable money vortex that is everything Kardashian. But is the Kim Kardashian iPhone game free to download?
At the insistence of my addicted friends and colleagues, I found myself downloading the app — which is, yes, 100 percent free— and I'm now fully immersed in the life of my character, a male model named BLEVEN (yes, in all caps) who dates a baseball player named Stephen and regularly flies to Miami (for $15) to attend openings and moonlight at Kim Kardashian's boutique.
I am more than a little ashamed of the amount of time I spend checking to see if everyone's favorite fake manager Simon Orsik has called me, but so far I haven't had to bashfully enter my credit card information in order to gain more stars. In fact, if you have the self-control, you'll be able to avoid paying for the game altogether!
Here's how:
Tap on Everything
You never know what will cough up a few bucks — or, better yet, a lightning bolt!
Be Patient
You can exit the game at pretty much any time and not lose progress. If you run out of energy, just click your home button and go about your life. It's actually really awesome — your energy will recharge in time, your spot will be saved, and you won't lose the chance to get more stars.
DO NOT GO BACK TO YOUR OLD APARTMENT
I accidentally walked in and now I owe my old landlord $750 in-game dollars that I could be spending on a sweet new in-game jacket. The more money you save in-game, the less tempted you'll be to spend real money on in-app purchases.
Good luck! And whatever you do, DON'T PISS OFF WILLOW PAPE.
Images: Kim Kardashian: Hollywood