11 Slip On Sneakers Better Than Your Punk Phase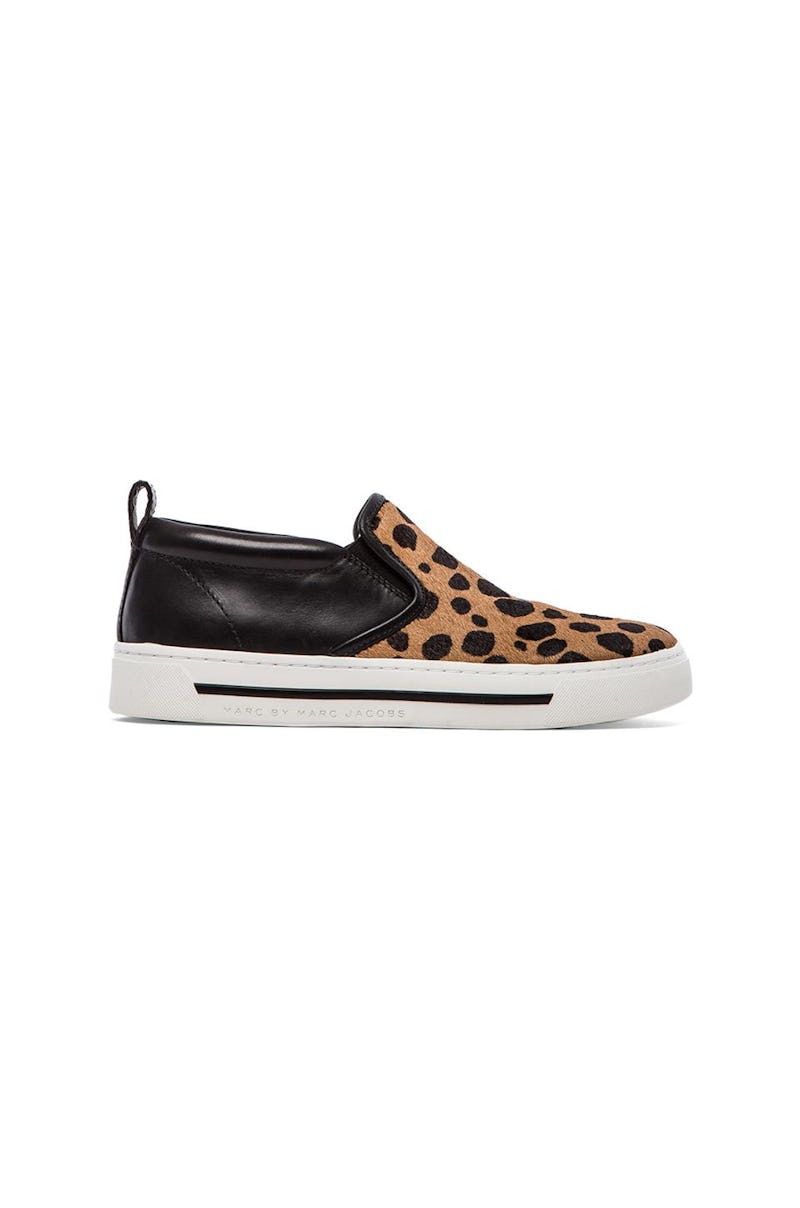 Aside from most forms of pasta and ice cream, there are few things I love more than a new shoe trend. Does it make sense to lace heels up to my knees? Not really. Will I like wearing a leopard print sneaker in a year? Probably not. Did the wedge sneaker look totally bizarre in almost all scenarios? Definitely. However, there's something about the constant rotation of shoe trends that just makes me love them even more. Unlike your outfit, shoes leave a little more room to be bold and there's always, always, always something new to try. And they always fit. Enough said.
When I started seeing the slip-on sneaker pop up on my favorite style blogs and shopping sites, I was a little unsure at first. I had flashbacks of my middle school pair of neon pink-and-black checkered slip-on Vans (dark days) and I was immediately confused by the idea that they were coming back in style. But then I saw them in leopard print, and I was sold. Usually a neutrals gal (although, many people count animal prints as neutrals...), I tend to stay away from any print on an animal you might see on a safari. But for some reason, I was drawn into the trend (yet again) and I was suddenly Googling left and right to find the perfect pair of slip-ons. And like most trendy shoes, there are oh so many options.
Here are 11 of the best slip-on sneakers for sale right now.
1. Leopard Print
Sam Edelman Becker Slip On Sneakers, $110, Shopbop
And believe me, there are many more options than just this when it comes to the leopard slip-on.
2. Black Faux Alligator
Shoes, $17, H&M
3. Crazy
Vans Classic Slip-On x The Beatles, $52, Zappos
4. Patterned
Van Doren Slip-On, $55, Vans
5. Metallic
Schutz Amisha Metallic Slip On Sneakers, $189, Avenuek
6. Neutral
New Look Manse Slip-On Trainers, $23, asos
7. Textured
Dexter Plimsolls, $53, asos
8. Feminine
Mariner Double Gore Slip-On Sneaker, $60, Sperry
9. Leather
Marc by Marc Jacobs Cute Kicks 10 MM Slip-On Sneaker, $298, Revolve
10. Snake Skin
Shoes, $30, H&M
11. Polka Dot
Amisha Slip-On Sneaker, $60, schutz.myshopify