These Losses Were No Surprise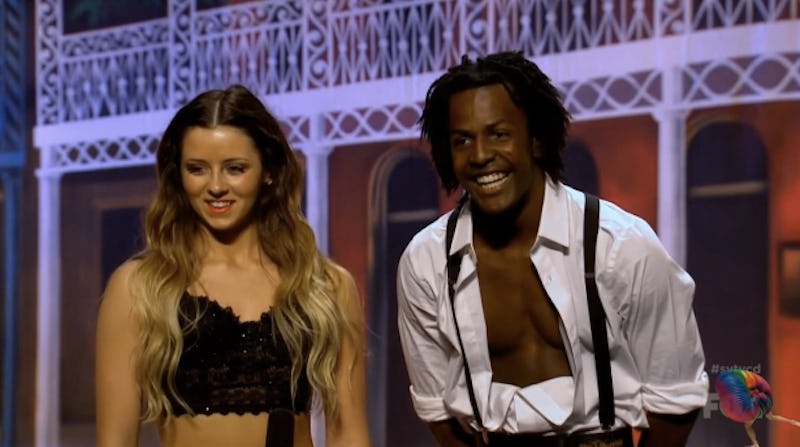 With a heavy heart, we lost two more competitors on So You Think You Can Dance Wednesday night. Before the Top 16 dancers performed with their partners for your votes, Bridget, Marquet, Tanisha, Zack, Brooklyn and Serge was placed in the bottom and were at risk of being sent home. Unfortunately the two dancers leaving the competition were Marquet and Brooklyn. Even more unfortunately for them, it really wasn't a big surprise considering the great routines their fellow bottom dancers performed.
Both Marquet and Brooklyn were quite wonderful throughout LA callback week, in fact I even predicted Marquet to be a frontrunner during the Top 20 competition. But neither were really able to shine during competition. Brooklyn has really gotten some bad reviews from my fellow SYTYCD writers and while that's got to suck, it's not without merit. The ballroom dancer has consistently given us disappointing performances including Wednesday night's Dave Scott-choreographed hip hop routine with partner Casey. Marquet on the other hand worked his butt off and yet was unable to capture the judges' attention and affection, even when he was doing dances in his own style. But Marquet deserved to last at least a little longer in the competition due to his partnering skills which were excellent even in the bad routines like Wednesday night's foxtrot choreographed by SYTYCD alum Dimitry.
We first met Marquet and Brooklyn when they auditioned together in New Orleans and they blew the judges away. And again they kept that momentum going during callback week. But when we got to competition, they both lost their spark. Brooklyn especially. She gave us weak dances after weak dances and was unable to keep up with partner Casey, a dancer who also could be in risk of going home next week. Brooklyn's hip hop number by Wildebeast was a brilliant piece of choreography. But that's just it. The choreography was great, the dancers were not. It was stiff, uncomfortable and had no flow. It's not as if Brooklyn didn't even attempt to hit the routine hard and with attitude, she just couldn't get there. It was just lacking all around, from both her and her partner.
Marquet on the other hand, had some disadvantages thanks to Dimitry's choreography, Dimitry wanted Marquet and new partner Jessica to attempt a "smooth" and sexy foxtrot which had its moments of sultriness but overall seemed a little disjointed. Plus, I think Jessica might be cursed as her partners seem to always get sent home. I fear for Casey even more now that I know he has to dance with Jessica and because his performance in that hip hop routine wasn't up to par.
We're getting closer and closer to the Top 10 and the introduction of this year's all-stars. That's what I've been waiting for and it's coming sooner than expected as next week we lose four dancers instead of two. Ugh, this is going to be brutal.
Images: Fox