Brooklyn Is Totally Going Home Tonight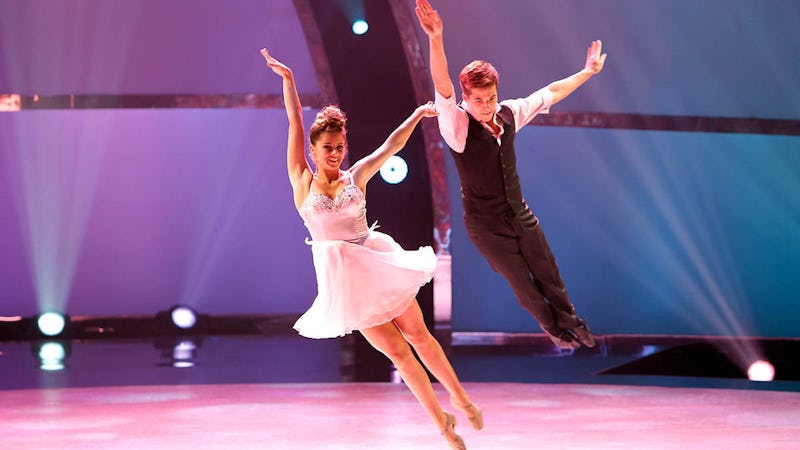 What's nice about the Top 16 on So You Think You Can Dance is that it's not too difficult to see who's at the bottom of the pack since there's a bigger chance of a slip-up. That's why I don't feel that bad about saying that Brooklyn Fullmer is probably going to be eliminated on Wednesday's episode. For real this time. There's no denying that she's a strong dancer, but, unfortunately, she lacks the emotion and technique on stage that some of the other dancers already have. Sure, she could totally improve and become one of the best dancers ever, but the fact of the matter is that she's competing against performers that already have those skills squared away.
During last week's episode, she performed a jazz routine alongside her partner Casey Askew, and although Askew was called "smokin'" by the judges, Brooklyn's performance fell flat. From one of the judges telling her she needs to get better with movement outside of ballroom (her speciality of dance) to another saying she needed to have more energy on stage, the dancer didn't walk away with best of critiques. (Also, Nigel Lythgoe basically told her to be better or else her partner was going to get all of her votes, so we know he'll have no qualms voting her off.) Another negative for Brooklyn's is that the judges probably haven't forgotten about her iffy ballroom performance during the first Top 20 episode, which was pretty disappointing considering she's supposed to be a rockstar when it comes to Latin dancing.
The one thing that's going for Brooklyn's is that she wasn't in the bottom six last week like she was during the Top 20 performances. She was able to pick herself up by her bootstraps, er, dancing shoes, and leap away from her previously poor performance. Based on past eliminations, it's pretty common for someone who is in the bottom six two weeks in a row to be eliminated — just take a look at Jourdan Epstein going home after being in the bottom twice in a row — so it's definitely positive that she was able to move herself up.
However, even though Brooklyn wasn't in the bottom last week, I don't think she's as well-loved by the judges as the dancers who actually were in the bottom six. Since Epstein and Stanley Glover were eliminated, that means that the remaining four who had less-than performances are Bridget Whitman, Emilio Dosal, Emily James, and Teddy Coffey, and based on the favorable reviews and compliments they received from the judges during their most recent dances, I don't really see any of them going home. (Okay, maybe Dosal could be sent home, but that's just a slight maybe.)
Basically, if Brooklyn is in the bottom six come tonight's episode, then she better dance for her freakin' life or else she's most likely going to get the boot.
Images: Fox