Frankie Gave a Beautiful Eulogy to His Grandfather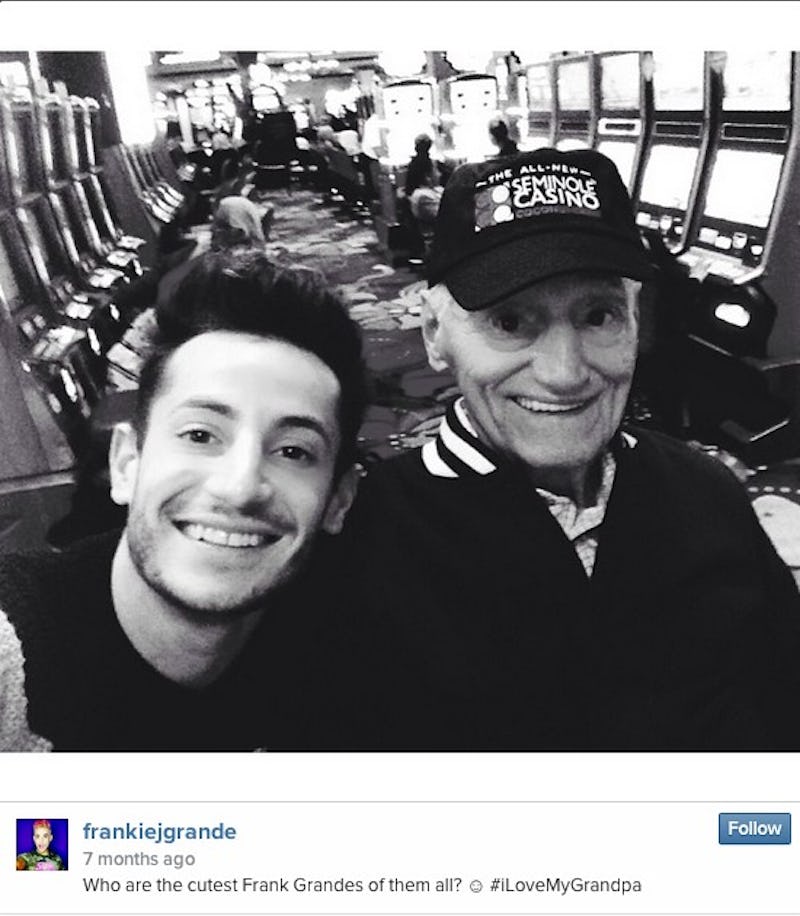 It was a sad day Wednesday when the world learned that Frankie and Ariana Grande had lost their grandfather, Frank, on Tuesday. After a day of speculation on whether Big Brother houseguest Frankie would be informed of his grandfather's passing, he was called into the Diary Room and given the sensitive news privately on Wednesday evening. Frankie, who is known to be a very family-oriented person, then received a letter from his family, informing him of the details of his grandfather's death. His family's letter ultimately encouraged him to stay in the game and play for his grandfather. Since he can't be with his family at this time, Frankie decided to give a eulogy for his grandfather on Big Brother After Dark Wednesday night.
It is heartbreaking to hear that Frankie feels bad that he can't be there for his family the way he was when his aunt passed away six years ago, as he was the only one strong enough to deliver her eulogy. Hopefully it will bring Frankie and the rest of his family some comfort to honor his grandfather in this way.
... My grandfather spent every day of his life fighting for his family ... He had dreams, he had ambitions, he had goals, and he worked his butt off every single day to get to that place, so that we were provided for ... And now this letter tells me, that he wants me to stay here and he wants me to fight, he's proud of me, he's proud of what I am doing in this house ... I wanted to be my grandfather, that's all I've ever wanted to be in this life was to be my grandfather. I wanted to be him and I wanted him to be proud of me ... Everything I've ever done, I tried to do in his image ... Everyday I am alive on this planet, on this Earth, I try to be like him ... Look up on my Instagram, scroll down and find the picture of me and my grandfather tanning because that epitomizes our relationship. Me in a little speedo and him in a full suit, and we are lying next to each other.
... One of the strongest, greatest men to ever walk this Earth ... He survived cancer twice before succumbing to cancer. This is his third battle with cancer. He had colon cancer, survived. Stomach cancer, got 90 percent of his stomach removed, survived. 90 years old, diagnosed with stomach cancer again ... And some might say that this is a failure, this is the final battle that he didn't win, I don't look at it that way. Look at the legacy he left behind ...
... I hope he was proud of me, he said he was proud of me, so I believe him ... Next week, if I get another assignment from Team America, and I win, and I've won all the ones to this date, I will have raised enough money to build a school in Africa. And today I have decided I am going to name that school after my grandfather, it will be the Frank Grande Educational Center ... I will build a school in his name, and I will continue to fight. And I will continue to use the lessons that he gave me and the strength that he gave me to win this game, because now there's no option ...
... I appreciate that he wanted me to stay here. I hope that you will all support my decision to stay here. And I hope that everyone that is watching this, you help support my family, because I can't do it right now ... So I'm going to stay here and I am going to fight, but I need you guys to help have my sister's back. My sister is probably a mess right now, and I can't hug her, so you have to ... Thank you for telling me ... It has given me a new desire to fight. I have something else to fight for now, I am fighting for my grandfather's legacy.
... In the Kabbalah, we meditate on three letter sequences ... and I want thinking of which one to use for my grandfather and it was 'contacting departed souls', and that was the first time that it actually subsided in me that he is no longer here ... But I'm gonna be strong, and I'm gonna win HOH, and I'm gonna win this game ... I'm gonna go be strong now ... Rest in peace, Frank Grande, one of the most remarkable men to ever live on this earth, and thank you for all that you taught me ... Thank you for being the greatest role model a grandson could ever have.
... Time to go win Big Brother.
Despite being offered the opportunity to grieve privately for the day, when Frankie first heard the news he returned to the other houseguests and shared the devastating news. He was immediately consoled by the other houseguests and shared stories about his grandfather's life, like how he went to work every single day up until Frankie moved into the Big Brother house (at 90 years old), or how he was in World War II, and how he was even friends with boxer Rocky Graziano. The other houseguests were extremely comforting and listened passionately to Frankie's grandfather's life, because despite being competitors, they have also formed a bond and a friendship that allows them to be each other's support system.
You can watch the video below to listen to Frankie's stories about his grandfather and see him interact with the other houseguests after he was given the news.
Our thoughts are with Frankie and his family during this difficult time.
Image: Frankie Grande/Instagram