Hotly Anticipated '50 Shades' Trailer is Here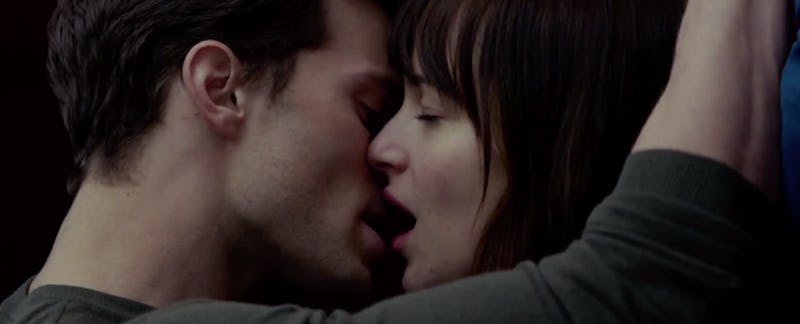 Make sure you have a cold bottle of water and a fan before you press play on the sexiest trailer of the year. 50 Shades of Grey , the notoriously kinky book that launched a whole new copycat genre derivatively referred to as "Mommy porn," has had a movie adaptation coming out for a while, but the first trailer for the film has finally hit the Internet and it is steamy. Starring Jamie Dornan as Christian Grey and Dakota Johnson as Anastasia "Ana" Steele, the 50 Shades of Grey trailer is a perfect combination of innocent and heated, but without pretending to be more or less than it is: a really, really sexy romance film.
50 Shades follows the story of Ana Steele who fills in for her best friend who is set to interview the mysterious businessman Christian Grey. Both Christian and Ana are immediately fascinated by each another, but as the incredibly virginal Ana soon discovers, Christian's interest in her is largely sexual and largely, uh, colorful, shall we say? All of that makes its way into the trailer, which depicts Ana and Christian's first meeting, the outrageously fun helicopter "date", and even flashes of their sexual entanglements that remain just this side of tasteful. How the word tasteful can describe a quick shot of Ana tied up and blindfolded might be up for debate, but, hey, it's 50 Shades of Grey. You know what you're watching.
Dornan shines as Christian Grey, striking just the right tone between dominant and distant, between mischievous and manly, and between the various different kinds of attraction. By the end of the trailer, you're not really sure if your eyebrows are disappearing into your hair because you want your own Christian Grey or because you still can't believe this is actually going to be a movie. All I can say is that if you haven't jumped on the 50 Shades of Grey bandwagon yet, then you'll probably still end up seeing the movie. It comes with an exclusive version of "Crazy in Love" performed by Beyoncé, who, as we remember, was the first person to post a teaser of the 50 Shades trailer on her Instagram.
Check out the trailer below and remember what I said about the cold bottle of water.