Charlie Hunnam Totes Shoulda Been Christian Grey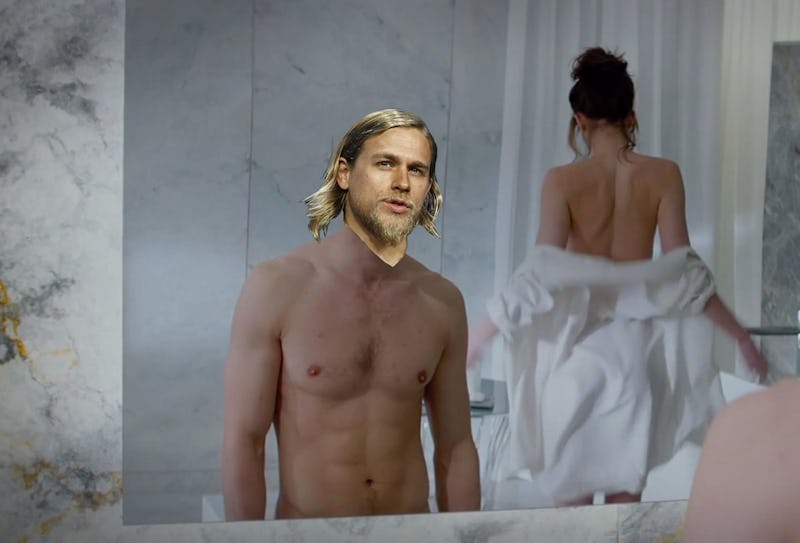 When it was announced that the buzzy, controversial 50 Shades of Grey novel trilogy would be made into a feature film, the biggest question on everyone's minds was, "Who will play Christian Grey?" The role of the young, handsome businessman with a not-so-secret interest in BDSM was up for grabs, and Hollywood heartthrob after heartthrob turned out in droves. After much back and forth, the erotic-novel-adaptation gods (they exist, I swear) smiled down upon the world and declared rugged Sons of Anarchy star Charlie Hunnam as the lead.
And then, just like that, all of our hopes and dreams of Jax Teller dominating the silver screen (in more ways than one, wink-wink) were shattered.
Hunnam soon announced that no, he wouldn't be playing Christian after all, and that the role now belonged to ab-tastic Calvin Klein model/actor Jamie Dornan. Granted, Dornan is an AB-solute sight to behold (okay, okay, I'll knock off the ab puns), but by then visions of Charlie Hunnam strutting around shirtless in baggy, ripped jeans through the "Red Room of Pain" had already taken hold.
Fortunately, with the release of the trailer on July 24, it looks like Dornan is going to do a bang up job as Anastasia Steele's, played by Dakota Johnson, lovah with "singular" tastes. I mean, did you see his abs (OKAY I'm done, I swear)? Even so, there's just something that refuses to let the idea of Hunnam playing Grey go. In a perfect world, I would have way better Photoshop skills, and the trailer would have looked more like this...
"Mr. Grey will see you now."
"Oh haiiii, it's just me Charlie Hunnam, looking like a total babe."
"How do you expect me to pay attention to her, when my own hot face is staring back at me?"
"Welcome to the Red Room of Pain, gurl."
Ah, perfection. You can check out the real trailer (without Charlie *sob*) below:
Sources: Getty Images; Focus Features (10)