Zach and Frankie Need to Hook Up Already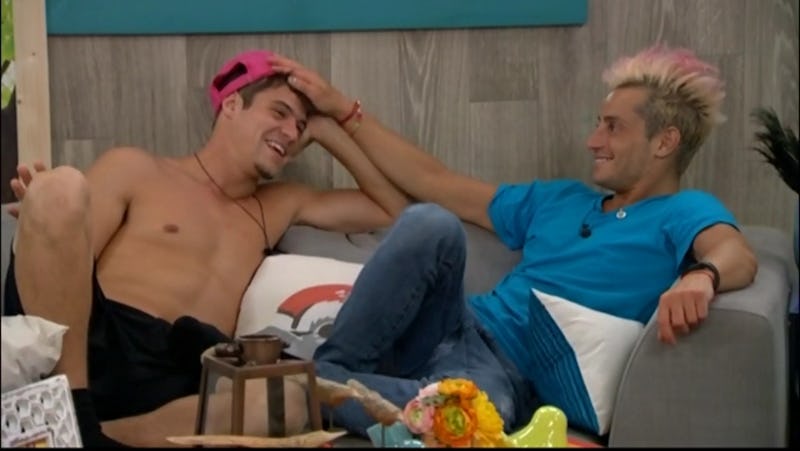 On Wednesday, the Grande family shared the news that Ariana and Frankie Grande's grandfather had passed away. Frankie was given the news while in the Big Brother house and the other house guests all did what they could to make him feel better as he shared stories about his grandfather with them and later retired to the diary room to read a formal eulogy he'd written for his grandfather, his family, and his fans. However, Frankie Grande being Frankie Grande, he may have been in a more somber mood after receiving the news but he couldn't stay completely down for long. Add Zach Rance, aka the other half of the "Zankie" showmance to the mix and you end up with another cuddling session that makes us all wonder why Zach and Frankie aren't a couple yet.
If you watch the Big Brother live feeds on mute, or even just look at all their pictures and gifs, you would be forgiven for thinking that Zach and Frankie are the most affectionate couple on the show. Even the current canon showmance, Hayden and Nicole, touch each other less and spend less time together than Zach and Frankie do. On Wednesday night, Zach and Frankie joined Cody in his HoH room to sleep for the night and Cody was such a third wheel in his own bed that it should really become a running joke on Big Brother.
After spending most of the conversation either holding hands or stroking each other's arms, Frankie eventually rolled over to spoon Zach as they fell asleep. Cody maintained a healthy amount of distance between himself and Zach on the bed most of the time, but the one point at which Zach shifted closer to Cody in order to talk to him about something, Frankie soon lifted his head to joke, "Are you guys hooking up?"
To this, Zach chose to reply, "If we were, we'd let you join." Zach also made sure to let Frankie know what we've all been aware that he thought: "I love you, Frankie. You're so hot... You're hot, and your personality is so great, it increases everything about you exponentially." Of course, this is hardly the first time that Zach has ever told Frankie that he loves him or that he's attractive or that he has a great personality. He says all of those things on the live feeds so often that it's practically worth a drinking game.
However, since it came a few hours after Frankie cried as he revealed his grandfather's death to the house guests — and Zach cried privately for Frankie on his own not long after that — then it feels like Zach is going out of his way to make Frankie aware of how loved and treasured he is.
At this point, it's hard to guess what the obstacle standing between Zach and Frankie and the love of a lifetime could possibly be. Zach may identify as straight, but sexuality is more of a spectrum than it is a label and even he doesn't seem to fully understand the depth of his feelings for Frankie. Meanwhile, Frankie admitted last night, "I don't usually have sex with straight people, but whatever, I'll try. I'll take one for the team." Could that have been in reference to Zach? And, if it wasn't, couldn't Zach easily change that?
Being a fan of Zankie is an exercise in patience so far, but at least we can rest assured that we have one supporter in the house. Cody Calafiore was the first house guest to bring up how close Zach and Frankie were getting and I'm sure he'd be the first house guest to applaud if they finally hooked up. All that sexual tension is killing him just as much as it's killing all of us, especially when it goes on at the other end of his bed.
Image: z-achrance/Tumblr; kunoichi4ever/Tumblr; allbbupdates/Tumblr