Aubrey Plaza Is Badass in the 'Ned Rifle' Trailer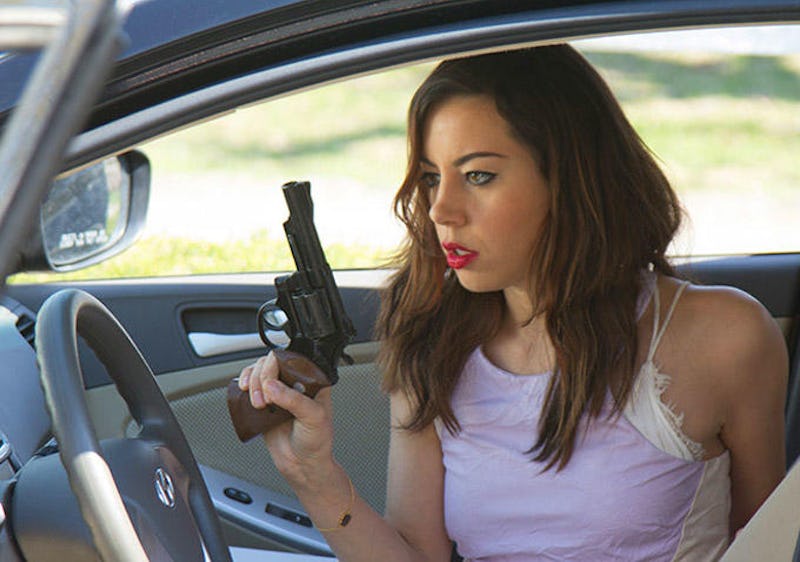 I'm honestly not quite sure what exactly to think of the first trailer for Ned Rifle . There are some cinematography choices that are both aesthetically and stylistically appealing, but man, that background music — I totally get that the movie is supposed to be this sort of neo-noir type genre, but the choice to forgo most dialogue in the trailer for a music track that sounds like the opening to a Sims game or something was an odd one.
Still, though, I'm here for Aubrey Plaza, and the plot of the film sounds interesting enough: Ned Rifle, which stars Plaza, Liam Aiken, Parker Posey, and James Urbaniak, is the third installment of Hal Hartley's Henry Fool trilogy, which began all the way back in 1997 with the Posey-starring Henry Fool — 17 years ago. Posey returned to the role in 2006 with Fay Grim (which also saw the introduction of Aiken into the series), and, now, thanks to a successful Kickstarter campaign, Hartley is releasing this third film, Ned Rifle, himself.
The film takes place four years after the events of Fay Grim, and sees Posey's character Fay now imprisoned for life thanks to a charge of terrorist activities (also thanks to Henry Fool), and her son, Ned Rifle, in witness protection with a very religious family of Christian faith. Of course, Ned isn't cool with this, so he takes off to find and kill his father, Henry Fool, for ruining his and Fay's lives. Plaza portrays Susan, a "mysterious" woman who seems to be the opposite of April Ludgate, wears a lot of awesome red lipstick, and has a "connection" of some sort to Henry Fool.
In other words, sh*t goes down.
Ned Rifle will premiere at the Toronto International Film Festival, but there's no official release date set just yet. Check out the trailer below.
Image: Possible Films