It's Philip Seymour Hoffman's Last Role...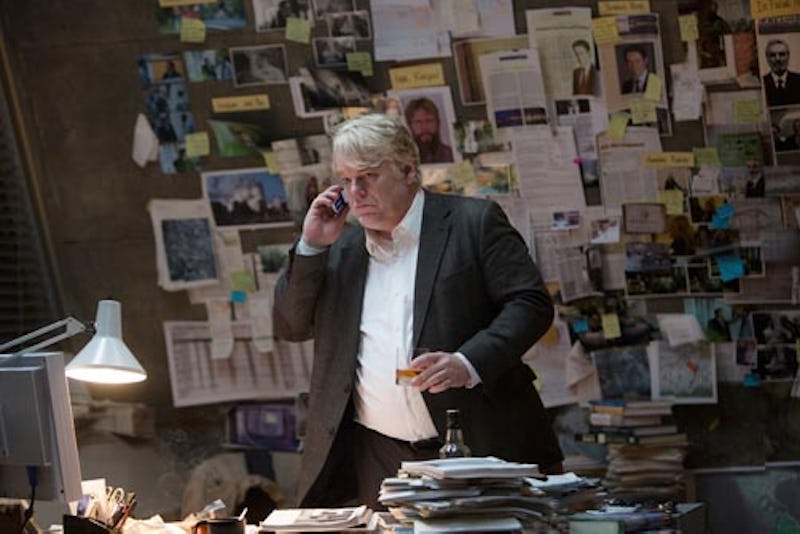 It's as strange as it is tragic when an actor dies young — their onscreen presence suddenly ghostly, their upcoming projects weighted with a new and terrible significance. And so it is with A Most Wanted Man, the latest adaptation from the collection of spy novelist John le Carré, which stars the late Philip Seymour Hoffman. The actor, who died at age 46 this past February, plays Günther Bachmann, an intelligence agent stationed in post-9/11 Hamburg, tasked with mitigating international threats from local resources, running off of leads passed through cigarette packs and nagging suspicions that knowingly tread the line of profiling.
Of course, this isn't literally the last we'll see of Hoffman on film; he'll make a (non-CGI) appearance, we're assured, in the forthcoming Hunger Games sequel, Mockingjay. But when it comes to his leading-man gravitas, A Most Wanted Man is indeed the final word — and a word spoken with a questionable German lilt at that. For poetic purposes if nothing else, you'd want this final turn to be his undisputable best — but for what it's worth, both the performance and the film are much like the character himself: solid, studied, plenty intriguing, if a bit rough around the edges. (And at least he fares better dialect-wise than his American co-stars: Willem Dafoe, whose accent fades in and out, and Rachel McAdams, who is consistently less than convincing.)
More than anything, though, the performance is a reminder of Hoffman's considerable range — from messianic leaders to yes men to rock journalists and back again. So, while you should certainly catch A Most Wanted Man — if only to pay Hoffman a final salute — it's also worth combing through his back catalogue, as a reminder of just how many roles he managed to knock out of the park in his prolific (and, of course, still all-too-brief) career:
Gust Avrakotos (Charlie Wilson's War)
Speaking of spies, Hoffman swapped out his traditional blonde locks and donned some serious eyewear to play Gust, the no-nonsense CIA agent who ends up acting as right hand man to the eponymous Wilson (AKA, Tom Hanks). The movie itself is plenty enjoyable, but to get a sense of Hoffman's performance, all you really need to see is the above scene — outrage punctuated by charm, a veritable 180 from the low-burning intensity of A Most Wanted Man.
Truman Capote (Capote)
Another role for which Hoffman adopted a voice markedly different from his own — and an Oscar-winning one at that. Hats off, ever and on, for never allowing a potentially "fey" characterization to devolve into caricature, imbuing the infamous writer with genuine pathos.
Lancaster Dodd (The Master)
As with many of Paul Thomas Anderson's films, The Master ranges from disturbing to inscrutable, depending on which of its dream-like minutes you've stumbled into — whether watching Joaquin Phoenix recreationally drink paint thinner or the primly period-costumed sink into delusion — but at its center sits Hoffman's eponymous Master Lancaster Dodd, without whose odd yet undeniable magnetism the film may well have crumbled entirely.
Brandt (The Big Lebowski)
And with just a few clipped consonants and a joyless laugh, he becomes Brandt, the human-shaped glob of smarm charged with doing the Big Lebowski's bidding. As a piece of straight-man-style comedy, it's pretty genius; every time he even starts to pronounce "Dude," it's already a joke.
Lester Bangs (Almost Famous)
Ultimately, my personal favorite of Hoffman's oeuvre is his embodiment of the legendary Lester Bangs the real (if slightly rotten) heart of Almost Famous — a movie that, were it to have any more heart, might just implode into sepia-toned treacle (but, like, in the best way possible). I doubt that I'm alone in playing this "uncool" affirmation a few dozen times on dark or work-filled days.
In short, RIP, PSH. You done good.
Image: Kerry Brown/Roadside Attractions