French President: No One Survived the Crash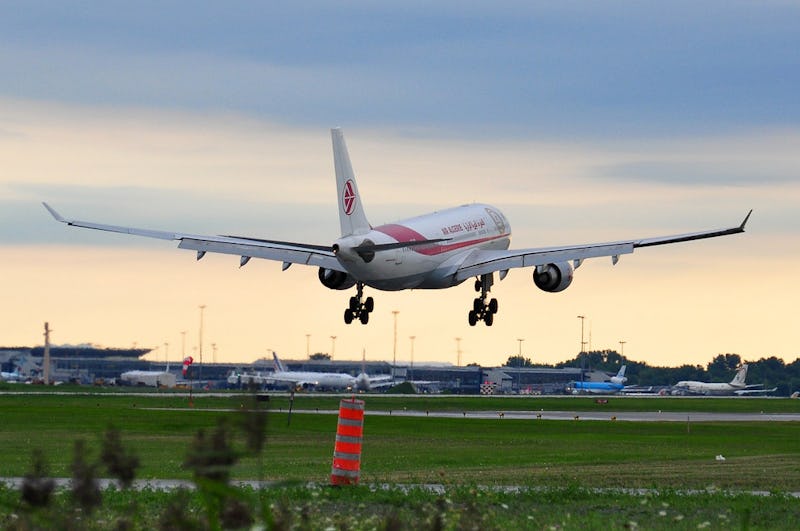 Confirming worst-case scenario suspicions, French President Francois Hollande said Friday that Air Algerie Flight AH5017 left no survivors after crashing in Mali early Thursday. French soldiers were at least able to find the jet's black box, which will go a long way in determining the cause of the tragedy. As it stands, no scenario has been ruled out — even terrorism.
The plane, which disappeared on its way from Burkina Faso to Algiers on Thursday, was carrying 116 people on board. Although at first there were fears of another possible MH370 situation — the location of which is still a mystery — wreckage from the Boeing MD-83 was eventually found late Thursday in a remote part of Mali. The Chicago Tribune reported that several of the victims' bodies were found at the site, along with "the remains of the plane, totally burned out and scattered on the ground."
According to The New York Times, about 100 French troops made their way to the crash site in Mali early Friday. A French Defense Ministry spokesman said they were going in order "to secure the site and gather any elements useful to the investigation, as well as the bodies of passengers." Although the troops weren't able to find any survivors, they did manage to locate a crucial piece of evidence: one of the plane's two black boxes (the second one, though, has yet to be recovered). It was found near the border with Burkina Faso, and has now been taken to Gao, a city in Mali.
Whatever investigators get from the black box will be the key to solving this tragic case. Though the French junior minister for transport, Frédéric Cuvillier, told France 2 television early Friday that they "rule out — and have from the start — any ground strike," others seem less sure. Said French Interior Minister Bernard Cazeneuve on RTL radio, according to the Associated Press:
We think the plane went down due to weather conditions, but no hypothesis can be excluded as long as we don't have the results of an investigation. Terrorist groups are in the zone … We know these groups are hostile to Western interests.
Northern Mali, an area the FAA considers a "high risk" flight zone, has been in a state of extreme unrest for a while now. A military coup, and an escalation of the fighting between disparate groups of Tuareg rebels and disparate groups of Islamist rebels, prompted the French to launch a military operation in January 2013 to expel the Islamist forces.
Image: Abdallah/Flickr