The Truth About Trendy Restaurant Menus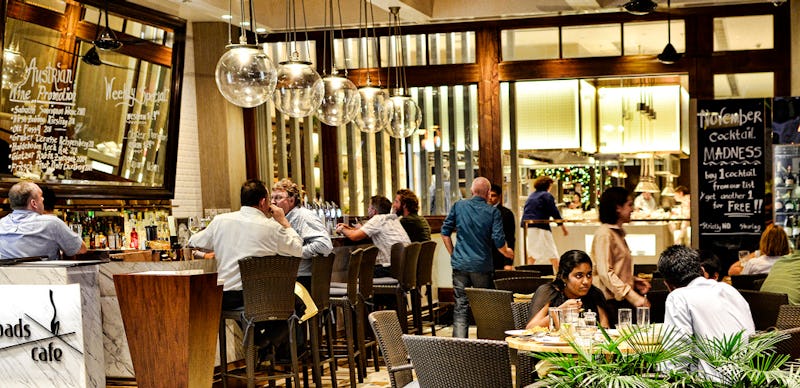 Don't get me wrong — I love eating at trendy new restaurants as much as the next gal (even if I absolutely hate hip bathroom signs). But there comes a point when a restaurant moves from "trendy" to "insufferably pretentious," and the first indication of the crossing of that line usually appears in the menu. Happily, though, the folks at Eater feel our pain, and they've got the perfect antidote for it: a brilliant spoof of every trendy restaurant menu you've ever seen. And it is magnificent.
The fake menu makes fun of everything from tiny yet stupidly expensive portion sizes ("one piece of toast w/ spread on top," "pickles, the next generation," and "eight olives in a ramekin") to that weird habit of some places of needing to identify exactly where in the world each item gets its inspiration from ("moules frites that spent a semester in Thailand"). My personal favorites are all under the "starches and vegetables in cute little crocks" category at the bottom of the page; on top of the "truffle oil-tainted mashed potatoes" mentioned in the title of this post, the phrases "an unconventional riff on Brussels sprouts" and "business class carrots" literally made me laugh out loud. I mean it — I actually snorted into my coffee and am now covered in medium roast and a tiny bit of milk. It's a small price to pay for quality comedy.
Even more hilariously, Boston.com did a little searching on Instagram and Twitter and managed to find real life analogs for a number of the items on Eater's pretend menu (pretend-u? Whatever). The craziest thing they found, though, is undoubtedly the "vintage brandy crusta," a cocktail that costs a mind-numbing $1,100. $1,1000. For one drink. Who the heck has that kind of money to burn? Oh, right — probably all those millionaires who are apparently running around New York City. Or something.
Now if you'll excuse me, I have some tarted-up pork belly to attend to.
<img width="660" alt="2014_trendy_restaurant_menujpg" src="http://eater.com/uploads/2014_trendy_restaurant_menu-thumb.jpg" height="487" class="article-body-image" title="Image: http://eater.com/uploads/2014_trendy_restaurant_menu-thumb.jpg"/>
Images: williamcho/Flickr; Eater