'OUAT' to Feature a 'Frozen' Wedding?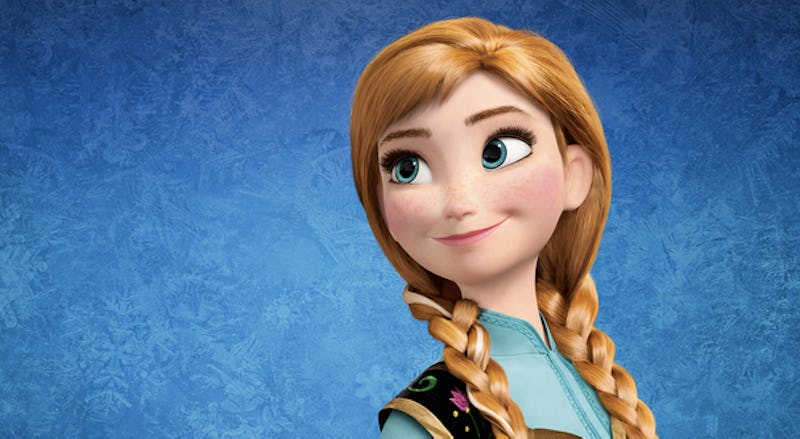 We've wondered for a few weeks how ABC's Once Upon a Time would treat the Frozen newcomers and on Saturday at San Diego Comic-Con, we got our answer. Kind of. The Hollywood Reporter was there when OUAT producers Adam Horowitz and Eddy Kitsis showed a clip from Season 4, which put Arendelle princesses Elsa (Georgina Haig) and Anna (Elizabeth Lail) in the spotlight. Unfortunately, the short teaser video isn't yet available for public consumption (why you gotta be so withholding, ABC?) but evidently, the clip revealed that there will be a Frozen wedding on Once Upon a Time . That's right, Anna and Kristoff are getting married.
E! News reports that the Comic-Con OUAT clip opens with sisters in ice Anna and Elsa resting flowers on their parents' grave. (In the movie, you'll remember, the parents are killed at sea.) Elsa then turns to her sister and says, "Anna, they would be so proud of you." Apparently, she goes on to tell Anna that she has a surprise in store for her upcoming wedding.
If you're hoping that surprise is a stumpy little ball of snow with an orthodontia problem, that makes two of us, but don't get too excited: Olaf is not expect to make an appearance on the ABC drama.
What else does this wedding tell us? Well, for one, that the Frozen plotline on OUAT will be a linear continuation of time, and will pick up where the movie left off. Bustle's Christine DiStasio had a great theory that Anna would be dead and we'd see Elsa in flashbacks, but it sounds like there's no funny business happening on Season 4. Unless! Unless Anna is marrying villain Hans.
But, come on. Does this look like the kind of Elsa who would let Anna get back with Hans?
Didn't think so.
Once Upon a Time Season 4 returns Sunday, September 28.
Images: Disney; Fanpop