The Ring Is Free — But There's a Catch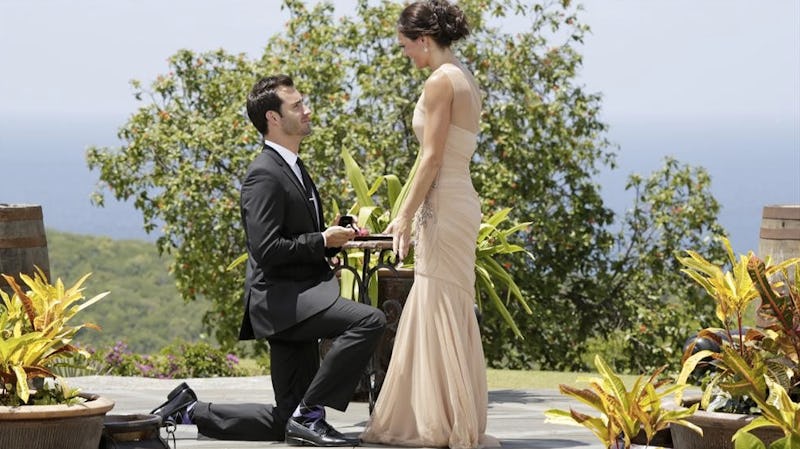 As completely unrealistic as it can be sometimes, The Bachelorette can give us something that no other reality show can: A renewed belief in love... and a big ol' ring and televised proposal. Okay, I know the "renewed belief in love" part sounds ridiculous, but stick with me here. If Bachelorette Andi Dorfman can meet and fall in love with the person she's going to spend the rest of her life with (with a little assistance from ABC, of course), there's no reason why that's not possible for anyone else. Love might be just around the corner, guys! Isn't that amazing? But as much as I love to believe in the fairytale, I can't help but be curious about the logistics behind the whole thing.
Yeah, the show is littered with dream dates and manufactured drama and outlandishly expensive international travel, but we can't ignore what it all comes down to: Someone is actually going to propose. And that's a huge thing. After all, wouldn't the idea of asking someone to marry you be nerve-racking enough without having to do it in front of a camera crew and being well aware that, a couple of months down the road, everything you say and do in that moment will be broadcast for the world to see?
And then, the ring — which, in Bachelorette tradition, is always huge, blinding, and absolutely gorgeous. But that's where the pressure is off, because the Bach winner doesn't have to pull out his credit card or three months' salary for this one. So who does pay for it? It's never been confirmed whether ABC or their sponsor (and official ring designer) Neil Lane pays for the engagement ring, but it's definitely not the winner... or Andi. In fact, Season 4 winner Jesse Csinczak told Enstarz that he got to pick out the ring sans financial pressure when he proposed to Deanna Pappas. He said:
"One morning, you wake up, and they take you to a room with a bunch of engagement rings. You're like, 'Holy crap! I can't afford a $60,000 wedding ring.' Producers are like, 'Just pick one. You don't have to pay,' and so you do. Then you leave, go outside, and throw up."
Sounds pleasant, right? The throwing up part might be optional. Occasionally, it's less of a shopping experience and more of a diamond counseling session with Lane himself, who says he's offered up plenty of advice to winners in the past as they try to select the perfect ring for their gal.
"I give them a lot of advice, but in terms of the ring, it's about her," Neil told Brides in 2013. "She's going to wear the ring and look at it and know that he chose one that really matched her personality."
Another interesting fact: According to Radar Online, as part the Bachelor and Bachelorette contracts, the happy couple are required to return the engagement ring if they don't stay together longer than two years. And if it's been after two years? They can sell it, but they have to give ABC written notice more than a week in advance of putting it up for sale.
Sigh. What every girl dreams of: Staying together for two years under the pressure of returning a ring that costs as much as a modest house.
Images: ABC