In real life, 'The Killing's Mireille Enos Is As Sunny As Netflix's Series Is Soggy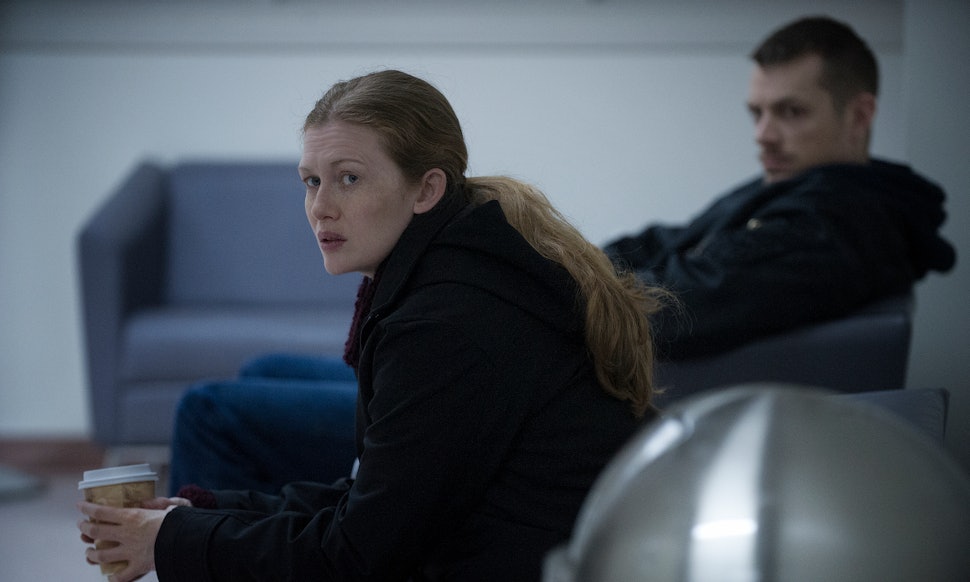 Remember that AMC show that starred Mireille Enos as a detective solving murders in perpetually rainy Seattle? Thought The Killing was cancelled, didn't you? Well, surprise! The Killing is back for a fourth and final season, streaming exclusively on Netflix this Friday.
Enos' Detective Linden has always been the highlight of this often-dreary show, and I couldn't be more thrilled to see her back in action one last time. But what's the actress like when not soaked by constant precipitation? And what else do we know her from? I've got you covered.
Image: Netflix
She's all business on 'The Killing'...
Though Detective Linden is infamous for her perpetual scowls on this rain-drenched series, her stern facial expressions belie a bevy of emotions hiding just beneath the surface. Throughout the show's highs and lows, Enos' performance as Linden has been universally praised. Amen to that.
Image: AMC
...But she's all smiles in real life
Here she is getting a kiss on the cheek from Rosario Dawson. The actresses star together in director Atom Egoyan's The Captive alongside Ryan Reynolds and Scott Speedman. The film debuted at Cannes this year, which is where this adorable photo was snapped.
She's not above snapping selfies with fans
As approachable in person as she is standoffish on The Killing, Enos always has a smile under her mane of distinctive red hair. Where did she inherit such luscious locks? Probably from her Scottish father, who was also a Mormon missionary. Enos was born in Kansas City (where her mother was a French teacher) before moving to Houston, Texas to attend the city's High School for the Performing and Visual Arts.
She's got a Tony nomination
After graduating from Brigham Young University, Enos moved to New York City. During her time there, she appeared in the acclaimed 2005 revival of Edward Albee's Who's Afraid Of Virginia Woolf?, which also starred Kathleen Turner, Bill Irwin, and David Harbour. Enos played the meek but excitable Honey, and she received a nomination for Best Featured Actress in a Play at the 59th Annual Tony Awards. (The award went to Adriane Lenox for Doubt, for the role played by Viola Davis in the 2008 film version.)
Image: The Shubert Organization
She's had a lot of 'Love' on TV
After ten successful years in the Big Apple, Enos began pursuing a career in film and television. She guest starred on a number of popular series throughout the early 2000s, including the likes of Sex And The City, Rescue Me, and Crossing Jordan. Her first major recurring role came in 2007 as (ironically, given her father's profession) a Mormon wife on HBO's Big Love. Six years before Tatiana Maslany made playing multiple roles de rigueur, Enos played identical twins Kathy and JoDean Marquat for 24 episodes (one of whom met an unfortunate end via vehicular manslaughter).
Image: HBO
She survived a zombie apocalypse
Perhaps Enos' most high-profile role to date came in last summer's blockbuster World War Z. Though she was given regrettably little to do other than hide out on an aircraft carrier while her husband galavanted around the globe saving the human race, it was nice to see her appear in such a major Hollywood blockbuster. Now cast her as something other than "Brad Pitt's wife," please!
Image: Paramount Pictures
She's about to join the YA craze.
Quality actors continue to flock to the bevy of Young Adult fiction film adaptations Hollywood keeps churning out — Julianne Moore in The Hunger Games, Kate Winslet in Divergent, and now Enos in If I Stay. Based on the book by Gayle Forman about a girl in a coma after a tragic car accident that claims her entire family, Stay will feature Enos as the ill-fated mother of Chloë Grace Moretz's Mia.
Image: Warner Bros.
Congratulations, it's a boy!
Enos has been married to actor Alan Ruck (Ferris Bueller's Day Off) since January of 2008. They had their first child, daughter Vesper Vivienne Ruck, in September 2010. Enos was pregnant with their second child throughout filming of The Killing's final season. Enos gave birth July 23, 2014 to son Larkin Zouey Ruck.
Best wishes to baby Larkin and his beautiful mother!