Now You Have to See What Sven Looks Like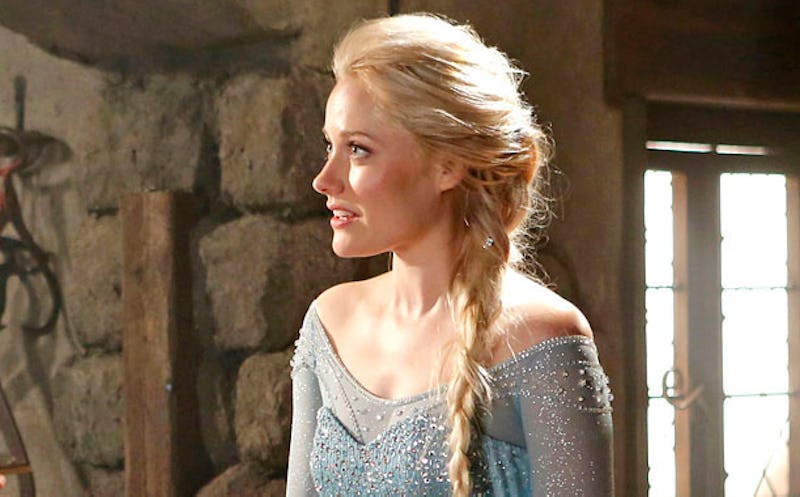 SVEN. It's SVEN. It's not just any old Sven, it's Sven from Frozen. You can see the real-life-not-animated Sven, Kristoff, and Elsa in the brand new photos from ABC's Once Upon A Time , which will be featuring the unstoppable behemoth that is Frozen in Season 4. Yes, you should get excited. Now your crush on the animated Kristoff can feel slightly more justified since he is now a corporeal, real-life being.
And not only does he exist IRL now, he also looks good. You can get a good look at Kristoff (Scott Michael Foster), Arendelle's original rugged mountain man hipster along with his reindeer in the photos below alongside Elsa (Georgina Haig). Even if you already saw the first photo of Elsa, seeing her interact with her sister Anna's husband-to-be adds a whole other element of "yes, this is really happening on television next month" to it all.
And you don't have to worry — the pics are pretty spoiler-free. The photos don't give too much away, and all we really know about the plot so far is that the Frozen segment will pick off where the movie left off — so Elsa and Anna don't hate each other, and Anna is set to marry Kristoff, even though we know that sisters be doin' it for themselves. (That's like, the whole point of the movie.)
We can find out what else happens when the new season premieres September 28. Until then, you can dream up your own plot twists or contemplate purchasing a pet reindeer. Or you can just look at these photo below — that might be a tad easier than getting a reindeer into your house.
Images: ABC