First Pic of Elsa on 'OUAT' is Here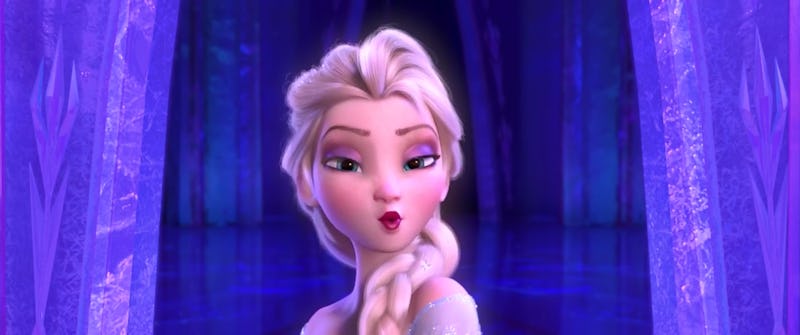 Further proof that your favorite CGI princesses are getting the corporeal treatment: Time has revealed a photo of Georgina Haig as Elsa in Once Upon A Time . Yes, Frozen really is going to the popular ABC show, and no, Frozen is not showing any sign of stopping whatsoever. Let the storm rage ooooonnnnn! (Look, as long as Frozen is not yielding to a halt, then my "Let It Go" references won't, either.)
Haig looks like a doppelgänger of Elsa (well, as close as you can get to being a doppelgänger of a CGI character), and her sparkly blue gown matches the iconic animated dress that Elsa wore in the popular movie. It's unclear if she's talking to Kristoff or Hans in the photo, but whoever it is, you can quiet your doubts: it's most definitely Elsa.
Frozen's venture into Once Upon A Time certainly has a lot to live up to, given the movie's popularity, but fans should realize that this ain't no CGI musical. Even though this new Frozen, which, with its "after-the-movie" plot is sort of like a live-action Frozen 2, will be devoid of any sing-a-long power ballads, it does promise one thing: a live-action Kristoff. Now you can swoon over a non-animated reindeer-riding dude. Yay!
Check out the photo below. You can see your favorite Frozen characters, minus Olaf, come to realization when the new season of Once Upon A Time premieres on September 28.
Image: Disney; FilmDivider/Twitter