The Kardashians Had a Better Friday Night Than You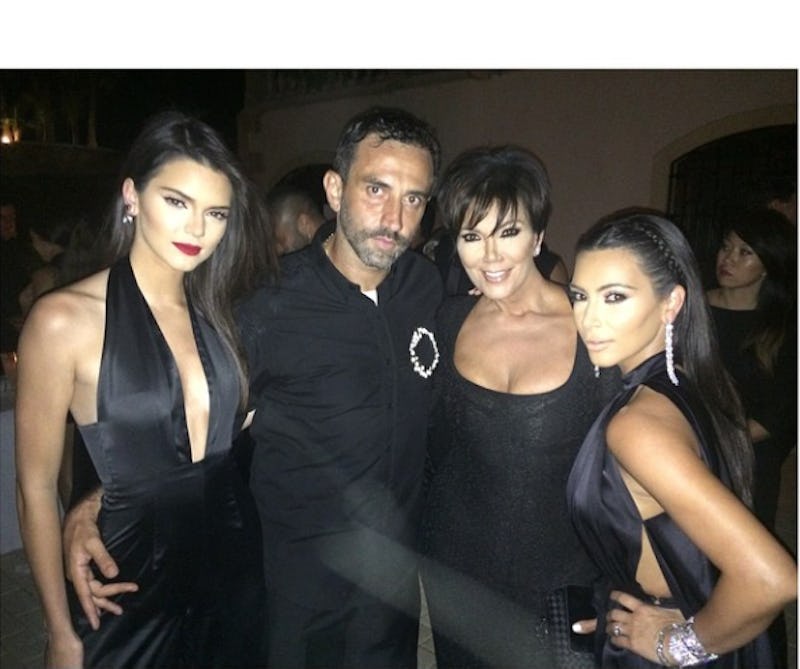 Did you have the best Friday night ever? Was it the kind of surreally fun night that could inspire the screenplay for a raunchy sex comedy crossed with an absurdist chase movie crossed with a love story? Well, I hate to break it to you. No matter how story-worthy your Friday night was, the Kardashians had a better one. Last night, Kim Kardashian, Kendall Jenner and Kris Jenner glammed it up at Givenchy creative director Ricardo Tisci's birthday party in Ibiza, which they documented heavily on Instagram. The E! reality special will likely be entitled "Kim, Kendall and Kris Take Ibiza: Fashion-Frowning and Getting Drunk With Mom."
Tisci's soiree was a "black party", because white parties are so Diddy circa 2002, and the KUWTK ladies dressed accordingly to the theme. The Givenchy designer is basically a Kardashian at large these days, given that Kendall has appeared in his campaigns and he designed Kim's wedding dress. I mean, the whole gang probably wore Givenchy for all we know. Isn't that proper etiquette when you show up to a designer's birthday party, anyway?
Kim wore a Grecian-style silk charmeuse gown, gathered at the waist. Kris wore a black knit floor-length, long-sleeved gown that could only have been a sweat-magnet. Kendall rocked a black silk jumper with a plunging neckline. Clearly, there were Kardashian stars in it for everyone who posed for Insta pics. Special appearances were made by Kanye, Justin Bieber, and a decidedly lit-looking Naomi Campbell. Enough talk ... let's go to the photos!
In my opinion, Kendall wins the ensemble throw-down. She actually looks like she's ready for a birthday party, while Kris and Kim look like they'd be tangling with some shredded hems if they even attempted to dance.
Now, let's get a picture with Ricardo! Kris Jenner didn't get the memo about the model frown...
Justin Bieber and Kanye West even stopped by to debut their latest looks—Ferrari and Le Tigre.
Kendall Jenner and Naomi Campbell nuzzled together like two lion cubs getting their buzz on.
All that remains now are brunch drinks and dry cleaning bills. P.S. Guys... good luck with those deodorant stains...
Image: Kim Kardashian, Kris Jenner/ Instagram