An Ode to 'Guardians' And Its Most Adorable Moment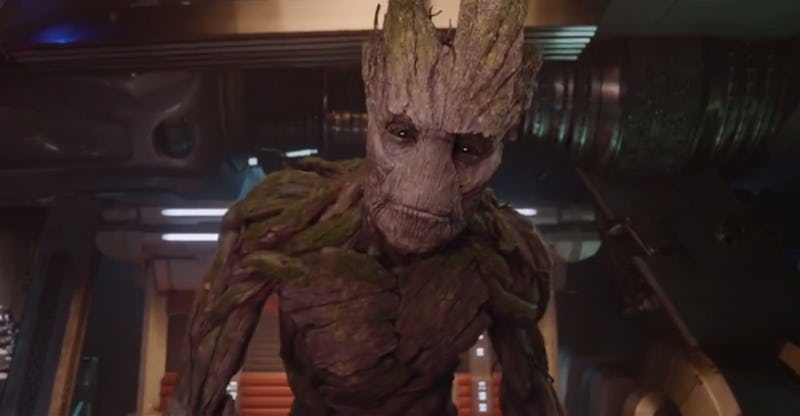 We've discussed how damn well the movie's doing. We've discussed that bizarre post-credits scene and if it really means Marvel's going there with Howard the Duck. We've discussed Chris Pratt's hair-braiding ability and tested our own significant others to live up to the hype. But c'mon you guys, what we really need to be talking about [spoiler alert from here on out] is Guardians of the Galaxy's dancing baby Groot credits scene.
Guardians of the Galaxy was a hilarious space romp, but let's be real here: The most adorable thing that appeared on the screen throughout those two hours took place as a direct result of one of the film's saddest moments, when Groot (Vin Diesel, kind of) sacrifices himself for his friends. He's reduced to a twiggy rubble, and best pal Rocket salvages a bit of him so that he can regrow into his former self. The film ends with a newborn Groot stretching his twigs once more. And then we get to the best part: A toddler Groot dancing along to Jackson 5's "I Want You Back."
It's been clear for a while that Guardians of the Galaxy was going to be a delightful film — certainly way less depressing than Marvel's most recent output, Captain America: The Winter Soldier. But I certainly didn't expect a CGI sapling to win my heart as thoroughly as it did. And yet:
How can you resist that? I'm obsessed.
And Groot didn't just win my heart this weekend — he won America's heart.
Can you blame us for loving him so much? It even has me eager for the merchandizing, which will hopefully include a dancing baby Groot to call my very own.
Images: Tumblr [2]; Marvel