Nine West Could Do Better Than This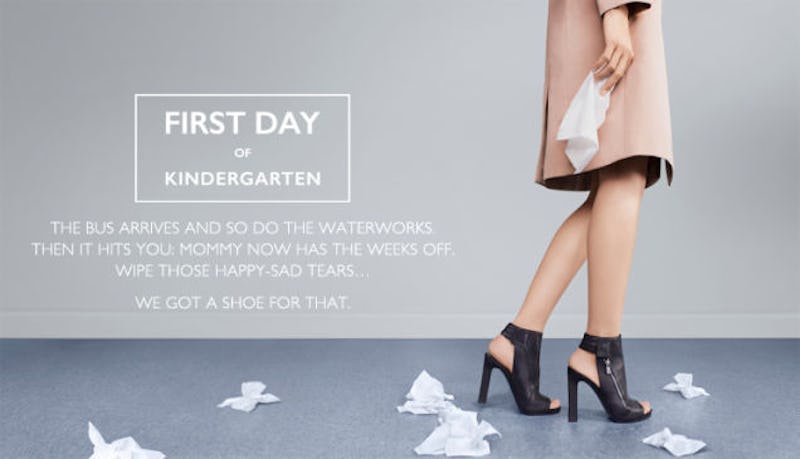 Based on Nine West's latest campaign, there is still work to be done when it comes to fashion brands' unfortunate marketing choices. Nine West's campaign, described by The New York Times as "A Suggestion for the Right Shoe for Unusual Moments," has been receiving mixed responses for its depiction of the modern woman.
Although the ads are meant to be funny, they show women only as girlfriends, potential wives, and mothers. Those roles are wonderful for the women that choose them, however the lack of nuance is what makes the Nine West campaign questionable rather than tongue-in-cheek. Take, for example, the ad pictured at the top of this article, with a woman in stylish heels standing amid a pile of discarded tissues.
The copy reads "First Day of Kindergarten. The bus arrives and so do the waterworks. Then it hits you: Mommy now has the weeks off. Wipe those happy-sad tears... We've got a shoe for that." Why the assumption that "Mommy now has the weeks off?" What about working mothers? Stay-at-home mothers who volunteer and fill the school hours with activity? The shoes are killer, but the message is one that pigeonholes women. Not cool, Nine West.
Although the aforementioned ad doesn't seem all that modernized to me, Nine West's senior vice president of marketing, Erika Szychowski, told the Times that being "modern" was exactly the goal. "We have to change the way we talk about occasions because women are modern now and shop for a different reason." I couldn't agree with her more. The problem? Nine West's ads manage to be "modernized" without challenging sexist convention in any way.
What else does Nine West's modern woman do? She hunts for a "starter husband," packs flip-flops in anticipation of her morning "walk of shame" (at least that one is trying to be sexually progressive), and goes to "drunch" (drunk brunch, naturally). What she doesn't do is hold a position of power or an outside-the-home job or have hobbies that don't involved husband "hunting" or date women instead of men. As one intelligent Facebook user commented,
Stupid campaign 9W. Love your shoes but don't patronize your customers by an outdated ideal. Women are hunting success and goals, dreams and visions. Not husbands.
Damn straight. We know you could do better, Nine West. After all, this is the brand that partnered with a handful of independently successful (and incredibly influential) bloggers, like Keiko Lynn and Aimee Song, for a spring campaign a few years ago. Obviously they aren't anti working women, so maybe there's a shoe for those ladies too.
Images: Nine West