How to Up Your Romance Game This August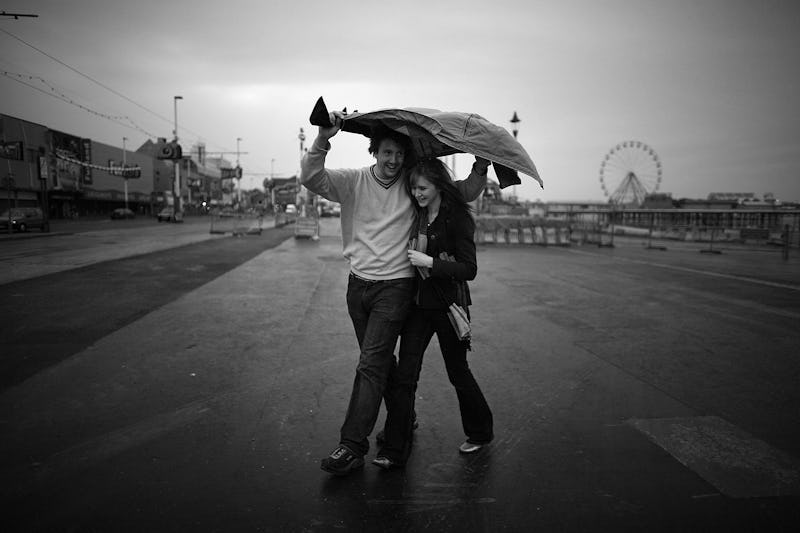 Christopher Furlong/Getty Images News/Getty Images
I don't really put much faith in claims that aphrodisiacs are effective — but you'd be amazed what a little creative thinking can do to revive that illusive "spark." All relationships have their ups and downs; it's only to be expected that you and your honey get into a little bit of a rut every now and again. But don't worry — travel-based online dating site MissTravel.com has your back! They recently surveyed more than 22,000 of their members, both men and women, to find out exactly what kinds of summery items turn them on.
Some of the results are surprising; others are a little less so; a bunch of them are more than a touch hilarious; but all of them, when harnessed correctly, might bring a little bit of romance back into the tail end of summer. To that end, we've come up with a variety of ways to infuse your life with these little pick-me-ups. So whether you're a cocktail lover, a goofball, or a cocktail lover who also happens to be a total goofball, here's how to send your summer out with a bang. Or something.
Top 10 for Ladies:
1. Champagne
Mix up a few champagne cocktails. I'm a fan of the classic St. Germain type, but Minimalist Baker's pomegranate-infused twist on it sounds delicious, too.
2. Exotic Accents
Meet up with your date, but pretend you've never bet before. Spend the evening talking to each other in accents that are definitely not your own. Bonus points for peppering your conversation with actual words from the language you're pretending to sound like you speak.
3. Burning Candles
Light up a candle or two, but make sure you go for beeswax ones — petroleum-derived candles kinda sorta kill your sex drive. Also, don't, y'know, set yourself on fire or anything.
4. Artisan Donuts
Sure, you could go out and buy your treats—but why not get busy in the kitchen and make them yourself instead? These cinnamon sugar baked donuts from Brown Eyed Baker should hit all the right notes.
5. Spontaneity
Hop in your car. Pick up your honey. Drive. See where the road leads.
6. Cashews
Cashews? Really? Well, if you say so. Spread a little of How Sweet It Is's milk chocolate cashew butter on a piece of toast for a midnight snack and go get busy getting' busy. Or get a pet and name it Cashew. Either works.
7. Musky Scents
Take a perfume-mixing class together. Vogue has a terrific rundown of the best places to go for your scent fix all over the U.S. Knock yourself out.
8. Frozen Treats
9. Yellowtail Sashimi
Find the best sushi place near you and make a night of it. Pro tip: A lot of restaurants have fabulous specials on Mondays, Tuesdays, and/or Wednesdays, so look for one of those if you can.
10. Infused Water
Infuser water bottles may not be super sexy on their own, but if you pack them in a basket with a picnic lunch and take them somewhere pretty… well, you do the math.
Top 10 for Dudes:
1. String Bikinis
Make him wear one. Humor is sexy, right?
2. Green Juice
Don't want to make your own? Download the Green Hopping app and make a date.
3. Honey Whiskey
Take a tour of a whiskey distillery — complete with tasting, of course. Forbes narrows down the top 10 places to go, so head on over there to start planning your outing.
4. Beach Wave Hair
This one's easy: Spend an afternoon at the beach. Or, if you're not really a beach person, try a surf spray for your hair like Bumble and Bumble's.
5. Fresh Baked Blueberry Pie
Make it together, of course. Joy the Baker's blueberry-blackberry pie is the bee's knees.
6. Minimal Make-Up
This tutorial is exactly what you need.
7. Tonka Bean Perfumes
I don't even know what tonka beans smell like, but they must be really awesome if they made it onto this list. Ten Digit Creations makes a vanilla tonka bean perfume oil that sounds divine — roll a little on your pulse points and have at it.
8. Fireworks
Just because the Fourth of July was a month ago doesn't mean the fireworks have stopped! Find out if anywhere in your area does a weekly display — then make a little fireworks of your own when you head home afterwards, if you know what I'm sayin'.
9. Bare Feet
Give each other pedicures. Sure, you may end up with some… shall we say, uniquely applied toenail polish, but the foot massages you'll both get and give are totally worth it.
10. Bacon
Bacon is always the right answer. Breakfast in bed, anyone?
Images: Giphy (8); Memes and Gifs, spnhasagifforeverything, It's Arrested Development (Gifs) /Tumblr; Rebloggy (2); Imgur; Gifrific; Gif Soup; Gif Wave; Photobucket (2)