Ramona & Heather Get Nasty at the 'RHONY' Reunion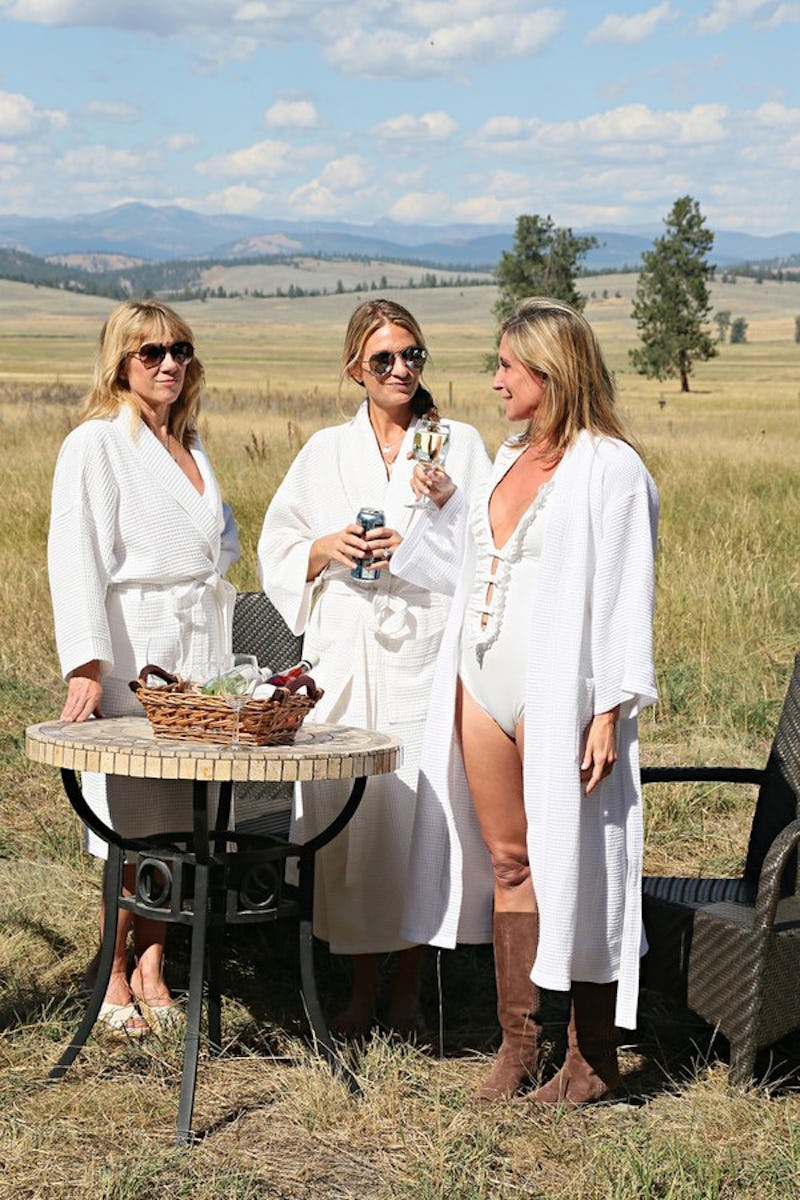 Getting into a fight with Ramona Singer is a rite of passage on Real Housewives of New York City . All the greats have done it, and now that she's technically the last cast member remaining from the first season, it's up to her to continue the tradition by getting into it with Heather Thomson. Even though Heather is one of the more relatable women on the show, Ramona can start an argument with a saint. She can start a fight with a bookshelf.
Ramona has found all sorts of ways to get on Heather's nerves this season. Throughout the whole Berkshires trip, from calling Heather's beautiful house a garage, to buying and having an air conditioner delivered, to maiming Kristen, to faking a mental breakdown so she could leave early and go hang out with Molly Sims, Ramona pulled so many crazy stunts that it would have left a lesser trip in tatters (could you even imagine what havoc Montana would have been if Ramona pulled all of this out West?). But Heather's best quality is that she won't let herself be distracted by the dumb stuff. If anyone can get over a Ramona fight and learn to befriend the Singer Stinger, it's Heather.
So have the ladies been able to get over their bickering and become friends again? The reunion episodes don't seem to suggest so. Heather is firmly entrenched on the Brunette Couch, with LuAnn, Carole, and (honorary brunette) Kristen. Ramona is on Couch Cuckoo-Land with Sonja, who's really heading off the deep end, and Aviva, who's probably already been elected President of Off-the-Deep-End Land.
While Heather of course stuck up for her girl Kristen about Ramona's totally inappropriate glass-throwing, and Ramona of course stood up for Sonja's sanity, the two really got into it when the subject of Heather's vacation house came up. Turns out that beautiful, spacious home was planned as just the "pool house," which led Ramona to mentally translate that into "this is a garage."
Then, the two get into an argument about classism among New Yorkers by way of comparing 26 acres in the Berkshires to one large house in the Hamptons. While I understand why Heather wants to stick up for her choice of second home, let's be real: no one else in the world cares about this argument. So while Ramona's being a little myopic and should probably apologize, they're not so different, after all.
Both Heather and Ramona are devoted moms, have a real-life friend on the Housewives with them (Carole and Sonja), and are totally ripped. Plus, neither one seems to be interested in hashing out their fights online. While both will post plenty of pictures with their kids or with friends, not even a veiled mention of Berkshires etiquette or hypocrisy is to be found on their Twitter pages. Heather did throw in a little tongue in cheek reference to a weird visor Ramona was wearing in the beginning of the season, and the two appeared cordially side by side on Watch What Happens Live , but it doesn't seem like Ramona and Heather will be besties anytime soon.