Next Time, Bring Kayak Cup Holders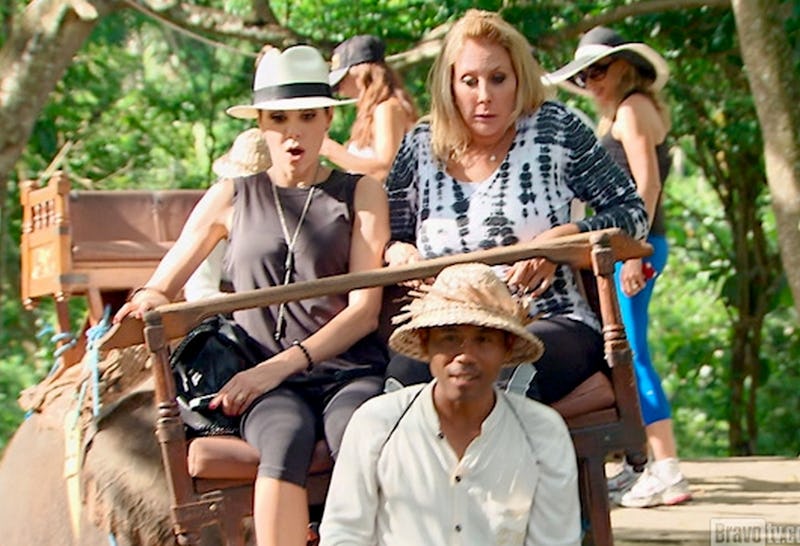 All of the present-day Real Housewives of Orange County drama plus the drama at the end of Monday night's episode has me wishing I could sit in an empty room and decompress for a day or five. I have got to stop reading about and thinking about the present-day RHOC mess. BUT I CAN'T STOP. I CAN'T TEAR MY EYES AWAY FROM THE GOSSIP. I mean, I've got to hand it to Bravo/Lizzie Rovsek/Tamra Judge for lining up their present-day dramz with the show's dramz. Really stellar timing. They truly know how to do a super fan in.
The RHOC Bali trip got off to a relatively good start: I'd say the first 85% of the ep, the Housewives refrained from arguing or screaming at one another. I'll take it! But then, the tide changed: As the Housewives enjoyed some appetizers and cocktails out in the humid Bali air toward the end of the ep, Lizzie and Tamra argued. They argued hardcore.
As they yelled at each other, I thought about the RHOC rumors and reports I'd read over the course of the last week. If Lizzie and Tamra really did get the Bravo boot, I'm bummed. Yes, that goes for both my girl Lizzie and skunk in the barnyard Tam-Tam. I miss them already.
Sorry to get sentimental. Let's get back to the ep: Lizzie and Tamra were (and are?) mad at each other about Lizzie's birthday party and some text messages and Lizzie's birthday dress and Lizzie's hoo-ha visibility and the party bus and a game of Marry/Shag/Kill. I don't know what's real. I don't know what's Real. I don't know what's Real. I don't know what's *~rEaL~*.
I do know that that party bus flashback (revisiting that nightmare bus caused my hair to stand on edge) did treat us to Lizzie drunkenly sobbing at the end of the night. She told Danielle Gregorio and Christian Rovsek that she had a terrible birthday, that she hopes Christian will throw a good party for her next year, and that she wants Christian to get a boner once a week. And I do know that that flashback was too real for me.
Instead of digging into a text message convo or the Marry/Shag/Kill game mystery or the boner call-out, I'd rather revisit the funny shit the OC Housewives said during the first part of their Bali trip. Here are my favorites (aka the quotes I thought to jot down):
SHANNON: "Vacation Shannon is Fun Shannon. Times 10."
Vacation Shannon has so many herbal supplements in her suitcase. Vacation Shannon is ready to party. Turn down for echinacea.
VICKI: [Does a moose impression.]
Shrimp moose. Shrimp mews. Shrimp moos. Shrimp mousse.
SHANNON: "Cocktails plus kayaks equals crazy."
I've never been much at algebra, but I understand that equation.
SHANNON: "We lost the cups."
If only that kayak had cup holders.
VICKI: [Retches in the back of the van.]
...
VICKI: [Shrieks in the van]
...
VICKI: [Shrieks the entire duration of the elephant ride]
...
TAMRA: "LOOK! He's got his lipstick out!"
Don't worry, the cameraman panned over to the elephant's dong at that very moment.
ONE OF THE HOUSEWIVES: "Look how it swings!"
Yup, still talking about the elephant's dong.
HEATHER: "It's Africa hot. It's Bali hot. It's like being in a sauna, only hotter."
I have not been to Africa, I have not been to Bali, and I have not been in a sauna. But I will not let any of that stop me from trying to imagine just how hot it was.
Next week: The OC Housewives Bali expedition continues. There will be monkeys. And I will undoubtedly be knee-deep in RHOC cast gossip. (Figuratively? Literally? That's to be determined.)
Image: Bravo