Get Off Of That Sad Party Bus, Lizzie!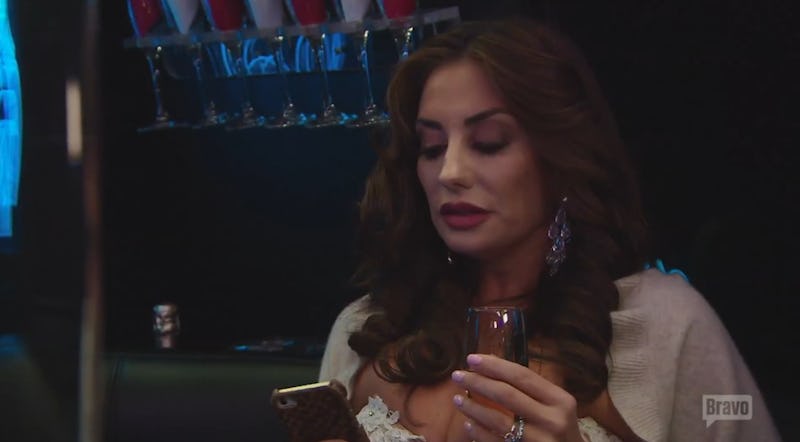 During Monday night's Real Housewives of Orange County, Eddie Judge and Terry Dubrow took Heather Dubrow's Valentine's Day dinner into the stratosphere with the rose petal pop trick (I DIDN'T KNOW THAT WAS A THING) and the dolphin impressions. (Yeah, the impressions were prompted by a very high brow anal sex joke...and by "high brow" I mean I rolled my eyes so hard I'm pretty sure they touched my eyebrows.) I could've watched an hour of their antics. Easily the highlight of the ep.
HOWEVER, as amusing as the rose petal chaos and the dolphin squawks were, they did not erase the memory of Lizzie and Christian Rovsek sitting alone in that party bus. Nothing ever will.
Hey, Orange County Housewives? A couple of y'all are on my poop list. How DARE you stand up my girl Lizzie's birthday party?!?!
Vicki Gunvalson went to the party. Sure, she said something about Lizzie and Danielle Gregorio being "dumb and dumber" as she boarded the almost empty party bus, but at least she was there. So she's cool by me. Heather Dubrow let Lizzie know way in advance that she'd be at the Britney Spears show in Las Vegas, so Heather's also cool by me.
Tamra Judge and Shannon Beador, however? POOP LIST. Ugh, fine. I guess I can't be that mad at Tamra and Shannon. Tamra was home with her sick daughter. Shannon was getting over a fever. Those are very reasonable excuses.
Oh, wait. I remember why I'm so mad: THEY DIDN'T GIVE LIZZIE ANY NOTICE THAT THEY'D BE SKIPPING THE BIRTHDAY PARTY. THE ORGANIZED, SMALL GROUP BIRTHDAY PARTY. WHO DOES THAT?
Lizzie sat in that party bus for HOURS (okay, it was only 10 minutes. But it FELT like hours) before she heard anything from Tamra or Shannon.
And to think, she was all smiles as she boarded that bus. She was so excited. A night out on the town with the Housewives. They'd laugh, they'd bond, they'd become better friends. It would be HER night. No. It would be THEIR night.
After the phone calls, the party bus didn't feel like a party bus anymore. It felt like a disappointment bus. A vehicle of rejection that had been lit up like a nightclub. The worst means of travel.
POOP LIST POOP LIST POOP LIST.
As I watched that bummer party bus scene, my "no one is showing up to this party" anxiety got the better of me. My eyes began to see things. I imagined the bus was quickly shrinking and the lights were slowly dimming. The unused champagne flutes sprouted goblin faces.
Get off of that bus of horrors, I thought. Save yourselves before it's too late.
Before I could hallucinate the bus swallowing Lizzie and Christian and sending them to the Land of Sad Parties for forever and ever, Vicki and Brooks Ayers hopped aboard. The bus returned to its original size. The lights brightened.
The bringer of woo-hoos and whoop it ups thwarted the sad bus demon.
As if the sad bus scene wasn't enough, there was that tableau of Lizzie, Christian, Vicki, and Brooks sitting at a half empty dinner table in an empty dining room. I COULDN'T TAKE IT. I REALLY COULD. NOT. TAKE IT.
Flavorless dishes aside, the small group did have fun together (who saw that coming? NOT ME). But those vacant chairs served as a constant reminder to Lizzie that her friends ("friends?") bagged her party.
Poop. List.
Again, Tamra and Shannon had legitimate excuses (sure, Vicki told Lizzie that Tamra's excuse was a bunch of bologna, but whatever. I don't have the energy to jump down the "Tamra is always full of bologna" rabbit hole tonight. The sad party bus sapped my energy count down to zero), but like, that last-minute ish was not aces.
This episode reminded me exactly why I NEVER want to host parties. My fear of everyone else missing out is debilitating.
As for party buses? A chill will run down my spine every time I pull up next to one at an intersection. The image of those goblin champagne flutes has been burned into my mind and will haunt me for the rest of my life.
Image: Bravo