This Might Be The Thinnest Eyeliner Ever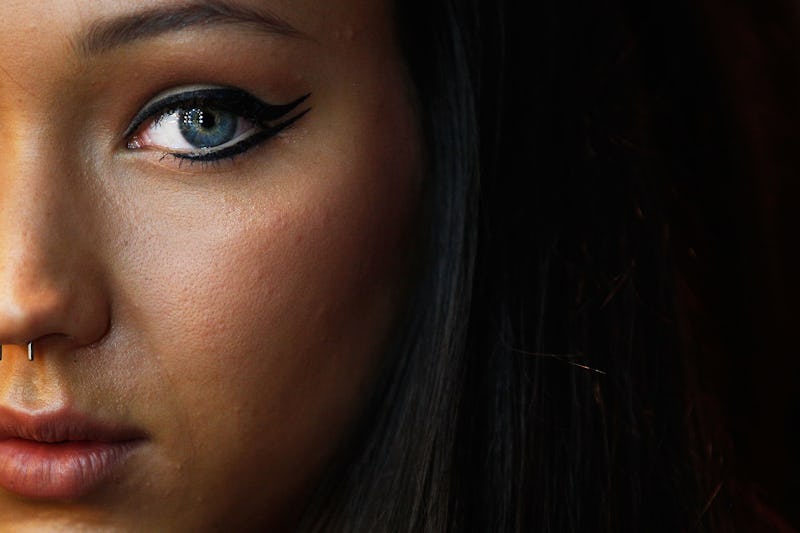 Brendon Thorne/Getty Images Entertainment/Getty Images
Bigger isn't always better, but that really depends on what you are measuring the size of — and your personal preference.
That said, I always labored under the illusion that the bigger and fatter a pencil eyeliner is, the better the results, since black-rimmed, Gwyneth Paltrow as Margot in The Royal Tenenbaums or Joan Jett-inspired eyes are meant to be bold, somewhat imprecise, and utterly statement making.
I love chubby black crayon pencil liners and Kajal pencils, too. But those are best reserved for lazy, smudgy, and quick smoky looks I want to create without having to use six different brushes and a palette of eye shadows to really smoke out my eyes with dimension and definition. I seriously don't mind spending 15 minutes getting my eyes did and playing with an array of tools and shadows to get there, since I often lurve the result. It's not always about fast beauty routines and regimens with me...
...but then Hourglass' new Mechanical 1.5MM Gel Liner landed on my desk and a new obsession and lust was born.
It is the tiniest liner, like, ever. The tip is slightly larger than a pinhead. It's designed like a mechanical pencil and it's packed with just enough waterproof gel liner.
See how small it is? It's adorbs, since mini versions of things are often the cutest. You know, like babies or puppies or tiny hamburger sliders.
Hourglass 1.5MM Mechanical Gel Eye Liner, $18, Sephora
Clearly, eyeliner pens and pencils are no longer the sole domain of smooth kohl or inky felt tips — gel pens are definitely having their moment. Benefit's They're Real Push-Up Liner landed earlier this summer with much fanfare and lived up to its cat eye-creating hype. But Benefit's pen is angled and thick, like a calligraphy pen. The Hourglass pen is a skinny stick.
Benefit They're Real Push-Up Liner, $24, Sephora
The tiny tip and the sleek, Louboutin stiletto-like handle allow for a tight grip, total control, and surgeon's precision when lining the top lashline, the inner waterline, and the bottom lash. I love that it requires no more than two steps to get 'er done.
Because the tip is so small, you have to be careful not to pump out too much of the creamy gel since it does not retract and then you have to either waste product or smudge it on your lashes or something.
So you only need to twist a small amount of liner and then line accordingly. If the line isn't as concentrated or as dark as you prefer, then twist some more and retrace your steps. I actually retraced my lashline like three times since I prefer a line that rivals midnight in hue.
But I've got to issue this warning, ladies. Don't mess around or try a super thick line or you miss the point — no pun —entirely. It's a slender tip meant to draw a delicate, lean, and lash-hugging line, not a bold one. You will end up with product migration and a sooty, oily, and icky blackish and grayish smudge of goop (not the G. Paltrow kind, either!) on your eyelid or a raccoon-y, unintentional mess.
But back to the topic at hand. Gel formulas are creamy, they often smudge, and they do budge without an assist from a powder primer or if you layer on too much of the stuff. I have oily skin so a primer is must-use for me, especially with gel eye products. So use accordingly.
Hourglass 1.5MM Mechanical Gel Eye Pencils, $48, Sephora
The liners come packaged in sets of three, which makes sense. Since the vessel of delivery is so small, there isn't much product inside. Each pencil has enough product for about 20 applications or so. The price tag is $48, which seems steep, but if you're looking for expediency and quality, well, the 1.5MM offers both. I would recommend using it for the top lashline only and lining bottom lashes and the bottom waterline with a regular kohl pencil if you don't want to overuse this product.
If you are totes in love with gel eyeliner in all iterations, including pot-and-brush form, check out my gel eyeliner tutorial, which holds your hand and walks you through key steps. You're welcome!
Images: Hourglass Cosmetics (2); Giphy (1)