8 Funny 'Bachelor in Paradise' Moments You Missed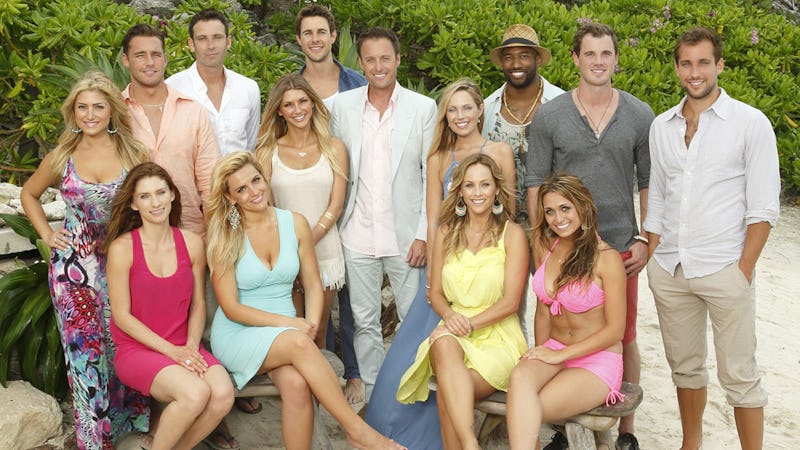 The craziness known as Bachelor in Paradise is officially here. As was expected, the premiere of the show packed in a ton of Bachelor drama. Lacy Faddoul was slut-shamed for going in the ocean with two different men. AshLee Frazier cried when the guy she liked was asked out by Clare Crawley. Daniella McBride fretted over her chances of getting a rose. Marcus Grodd looked like he was going to become the season's villain, and so on. But all of that was pretty standard Bachelor fare. We knew from the series promo that we were in for cat fights and tears, but where was the epic, dramatic season we were promised?
Well, don't worry because fortunately this year's ABC editing team was on point with their work and took the show above and beyond its usual standard. There were some pretty funny moments in between the romantic dates and trips to the sea that you may have missed, and these moments made the show even better than I could have imagined. Perhaps it's the beach location, but everything from Chris Harrison's wardrobe to the show's editing seems more fun and relaxed this time around.
And seriously, kudos to this season's editing crew because they are on fire. Case in point, these eight moments from the Bachelor in Paradise premiere that made it worth watching.
CLARE TALKING TO A RACCOON
Sure, it was just some clever editing, but the good thing is that we have Clare's emotional heart to heart with a raccoon on tape for life. I vote that the next Bachelor season replaces Chris Harrison with this raccoon because he is one understanding listener.
ANTS RUINING PARADISE
At the end of Clare's raccoon monologue she whines that she was bitten by fire ants on top of everything else that was happening to her. "It looks like I have chicken pox," she says in dismay. But that wasn't the only time the island pest spoiled the paradise fun. Later on Clare and Robert's date, he was swarmed by ants who found a home on his backpack — while he was wearing it.
I hope this show has a big twist and reveals that it's actually Survivor and everyone now has to avoid the wildlife and live off the vegetation. Hey if Bachelor can do a Wipeout crossover, is Survivor really too much to ask for?
MARQUEL'S OPENING OUTFIT
Ah Marquel. While I'm still mad he's not our next Bachelor, at least we still get to see his amazing fashion sense on Bachelor in Paradise. As usual, he beat out all the other guys in their white button down shirts when he showed up to the island mansion in a straw hat, airy blazer, cuffed pants, and was carrying a walking stick. This guy is too cool for ABC.
THE MARQUEL/DYLAN BROMANCE
There are quite a few contestants on the show who appeared together on the same season, but none of them seemed overly thrilled to see each other. Marquel and Dylan were the exception to that with Marquel excusing himself from the group to say hi to his fellow Andi reject. "I'm sorry, I have to go down there, that's my boy!" Marquel said when Dylan showed up. And a beautiful bromance was born.
EVERY GIRL HAVING TO TAKE OFF HER SHOES TO WALK ON THE BEACH
Sand + high heels = hilarity. Every woman there decided towering sandals was the way to go and every woman had to take those shoes off to journey down the sandy beach to the BIP mansion. Elise Mosca tried to keep hers on as long as possible, taking one small step at a time with Chris Harrison saying encouraging things like, "Oh boy, here's the stairs." It was priceless.
MARCUS' TIGHTY-ORANGIES
It's not his fault; he did play soccer in Europe after all.
CLARE MAKING OCEAN SEX JOKES
Juan Pablo's season is pretty famous for that time JP and Clare had ocean sex and then he slut shamed her. But at least she's able to make fun of the situation now, saying "I should have warned them it's not a good idea" when Lacy and Rob ended up in the water. "It's a good spot for conversation, I'll tell you that," she joked.
MARCUS AND CLARE WATCHING DYLAN AND ELISE
Dylan and Elise raced to waves together and Clare was all like, "OMG, it's awkward we can see them." And Marcus was all like, "Shh, my boy's getting it on with his first kiss." It was like they were Dylan's proud parents watching him seal the deal with Elise (too bad it sounds like that relationship won't last.)
If we got all these great moments in just the premiere, we're in for one hilarious season. And I, for one, can't wait to see everything unfold.
Images: ABC (2); Martha Sorren (6)