Apple's 1986 Clothing Line was Totally Rad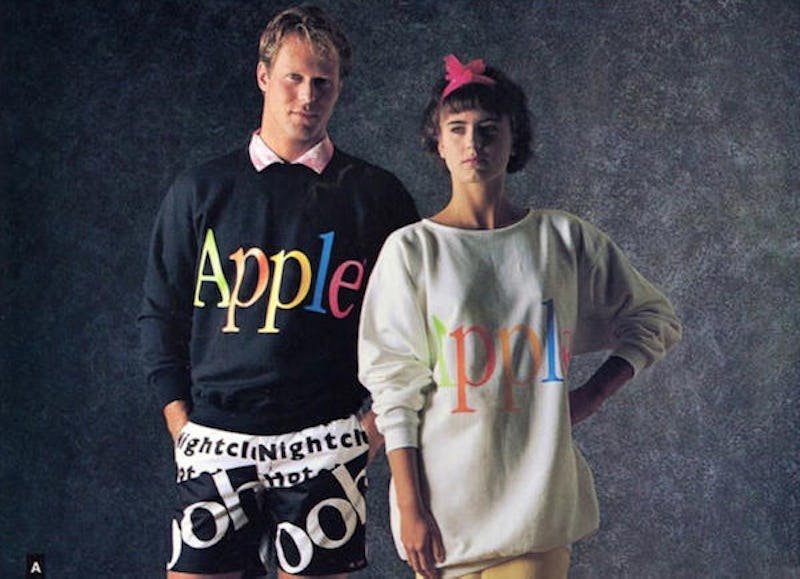 Before there were the iPhones and the iPods and the Macbook Airs, Apple had a clothing line. As it turns out, they had bigger dreams for the company beyond being tech innovators — apparently, they also wanted to be fashion giants, too. According to Fast Co. Design, Apple released a clothing line in 1986 and it's as radical and tubular and wonderfully '80s as you'd imagine it to be.
The catalog is full of sweat suits, nylon jackets, colorful logos, popped colors and matching bandana headbands. Although it was a completely failed attempt on their part back in the day, it totally reminds me of something you'd find on American Apparel's site right now. In fact, if these items were available to shop today, hipsters from Brooklyn to Silverlake would go absolutely nuts for it.
So, was Apple being ironic? Did they know that one day these photos would be released and find popularity three decades later? Most likely not. Before Steve Jobs left Apple in the late '80s, he had tried to suggest a uniform for the entire company, an idea he took after visiting Sony. It wasn't an all black turtleneck — Jobs wanted every employee to wear a rip-stop nylon jacket that had zip-off sleeves you could turn into a vest. Are you kidding? That sounds amazing. While that idea never saw the light of day, perhaps it did inspire some of the pieces from this random clothing line. So even though Jobs may not have had anything to do with the collection, it's likely whoever thought it up was partly inspired by his uniform suggestion.
Here are some more incredible looks from the catalog.
Images: The Apple Collection