Online Shopping Will Never Be The Same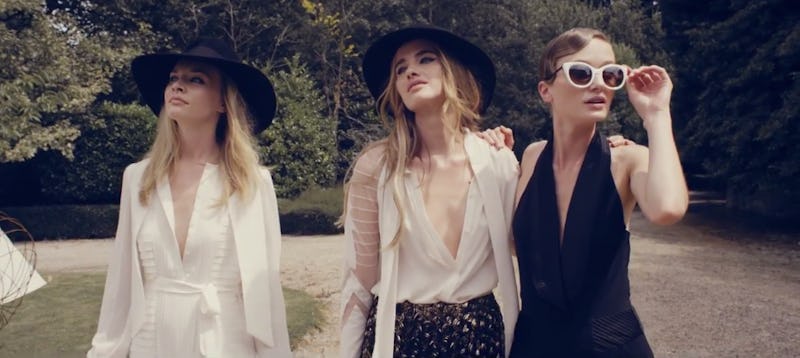 Fashion and film go together like green eggs and ham, so it's no surprise that shoppable videos are starting to take off. A few months ago there was Sky Ferreira's shoppable music video for the song "I Blame Myself," and now it seems the technology is finally reaching the world of high-fashion. Temperley London and Net-A-Porter have just released a shoppable fashion film using the Cinematique video platform.
The video, directed by Alice Temperley, features a dazzling summer party that's something of a cross between Baz Lurhmann's The Great Gatsby and Sofia Coppola's Marie Antoinette. Picture beautiful women — Laura Bailey, Jade Parfitt, Jacquetta Wheeler and Carolina Issa, to be exact — running across picturesque landscapes in bewitching (Temperley) dresses. There's even colored smoke and a ballgowns-with-masks scene.
As you watch the brief film, you click on the items you like and they are saved in a queue so you can purchase them later. I tried it out and was definitely impressed by the Cinematique technology, which is relatively seamless and doesn't interrupt the actual viewing process all that much. Still, this definitely isn't the most efficient way to shop. I was constantly on edge trying to make sure to click the correct item and had to pause and re-wind a bunch, which ruined the flow. The video moves quickly, so it's hard to get a good look at the pieces as they flash by on the screen. A good strategy is to click wildly at everything and then go back and assess the garments at a leisurely pace once the film ends.
Temperley's CEO Ulrik Garde Due told Marie Claire: "The consumer wants authentic story-telling in an innovative and entertaining manner. Thanks to Cinematique, viewers can emotionally connect with Alice Temperley's magical world while shopping the film." The real strength of shoppable videos is how fun they are. They immerse you in a world that lets you experience the clothes before you buy them.
Another cool aspect of Cinematique's platform? You can click on non-shoppable items, such as parts of the setting or even the models, and get more information on them later. Want an abridged history of the house in the film? Just click!
Head on over to Net-A-Porter to try the shoppable video out for yourself. You might find your wallet a bit lighter by the end — don't say I didn't warn you!
Images: Net-A-Porter