Here's How He Affords All Those Cheeseballs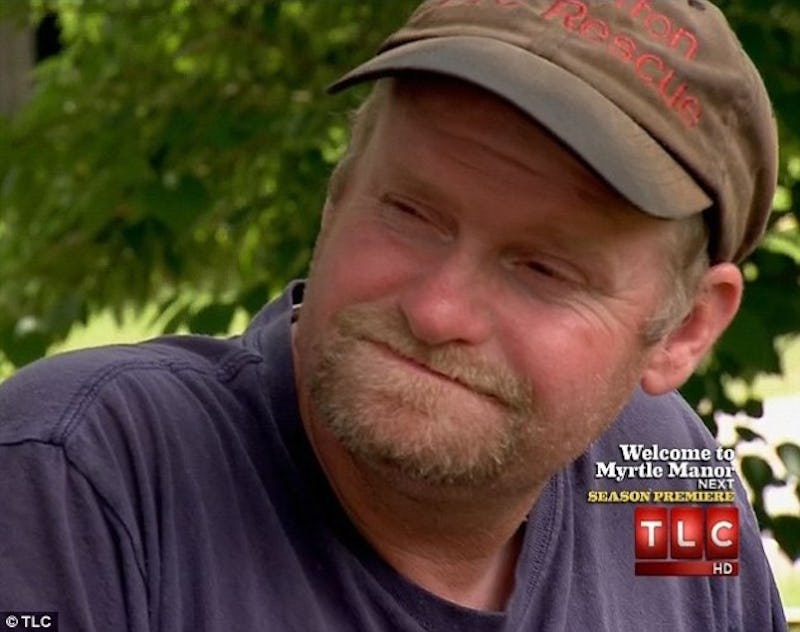 "S'mages," wrestling bachelorette parties, Jellio cakes, and duct-tape corsages — the Here Comes Honey Boo Boo lifestyle might not be the most extravagant, especially on the scale of reality TV , but, hey, it still costs money. Somebody's got to keep the clan in cheeseballs, and Honey Boo Boo herself retired from beauty pageants. Since Mama June is a stay-at-home mom, it falls on Alana's father, Mike "Sugar Bear" Thompson, to support the family. Right now, the situation seems to be working out for them all, with Sugar Bear taking care of Mama June, all her daughters, and her one granddaughter. But there's just one question remaining: What, exactly, does Sugar Bear do?
Sugar Bear — who had a wedding/commitment ceremony with Mama June last year, nearly 10 years after meeting her in an online chat room in 2004 — is a contractor with Snowco General Contractors. Or, as he put it on an old Facebook page (which is now defunct) when the show started:
"I work for snowco general contractors in mcintrye for almost 8 yrs I work in the chalk mines and love it"
Sugar Bear says he works in the chalk mines seven days a week. The schedule seems like it would leave little time to go driving his family around on an ATV or enjoy his meatball dinners, but he seems to manage.
When Sugar Bear says he's out mining "chalk," he probably means kaolin, a soft, white clay that has large deposits in Georgia. According to the Georgia Mining Association, the deposits were created "between 50 and 100 million years ago during the Cretaceous and Tertiary geological time periods, a time when the waters of the Atlantic Ocean covered much of Georgia's Coastal Plain," and today is used for "filling and coating: fine publication papers, lightweight catalog papers, and consumer product packaging."
There is, of course, Sugar Bear's other career — the one that employs everyone in the family. He's also a star of Here Comes Honey Boo Boo. According to Access Hollywood, Mama June said in 2013 the family received $15,000 to $20,000 per episode (though Parade put that figure at closer to $50,000 per episode). Then again, Sugar Bear himself doesn't get to keep the check: Mama June wisely set up trust funds for her daughters and granddaughter, telling TMZ, "I want my kids to look back and say, 'Mama played it smart. Not like those other reality TV people.'"
Mama June's good money sense is commendable. If a dollar makes Honey Boo Boo holler, she's going to have plenty to shout about when she turns 21 and gets access to her trust.
Images: TLC; Giphy