Kardashians Will Expand Their Empire to Haircare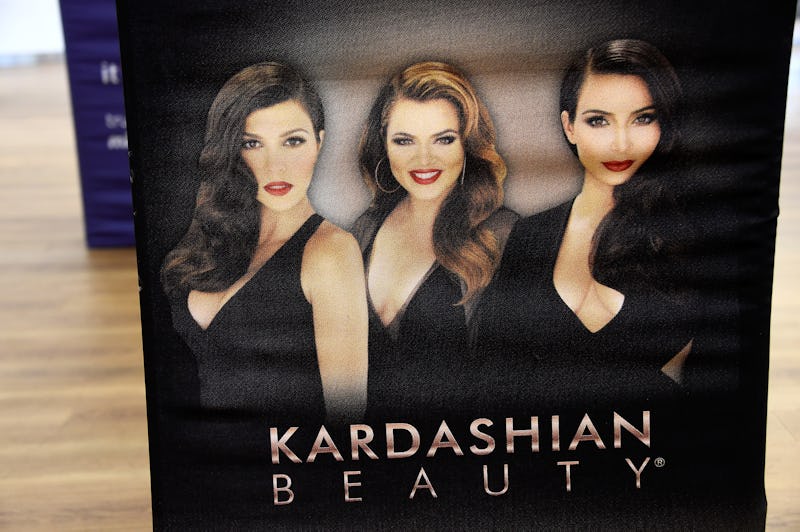 Frazer Harrison/Getty Images Entertainment/Getty Images
The last time I got my hair done, I asked my stylist out of curiosity, "What celebrity's hair do you get asked to recreate the most?" She laughed, rolled her eyes and sighed, "The Kardashians. Always. Everyone wants their hair to look like the Kardahshians." While I'm sure they like to think of themselves as trendsetting fashionistas with their chain of clothing stores, a fashion line, and even a cosmetics collection, the Kardashians could literally just be walking hair models, if nothing else. Those luxuriously long, dark (sometimes ombréd, sometimes blonde) tresses that fall around their faces like a Bratz doll always look so perfect, it seems unreal (and most likely is). It's only inevitable then that they'd capitalize on one of their most well-known traits. According to WWD, the Kardashian sisters are launching a haircare line called Kardshian Beauty.
Kourtney Kardashian, Kim Kardashian West and Khloé Kardashian have decided to team up with Farouk Systems Inc. to create a line that will include styling products, accessories and tools to use on hair. In a joint statement, the Kardashians said the following:
"We have been developing Kardashian Beauty carefully with our fans' needs in mind as well as our individual hair-care needs. Our personal desire for healthy, beautiful hair and hands-on product development has allowed us to design products we felt were missing in the market."
Missing in the market and keep their fans in mind? What does it all mean?! It makes me wonder if their line will include wavy clip-on extensions or perfectly round top bun molds.
Basim Shami, chief executive officer of Farouk Systems Inc., told WWD: "The partnership with Kourtney, Kim and Khloé to introduce Kardashian Beauty was a natural fit. Our team worked hand-in-hand with the sisters to create a premium product line directly inspired by their iconic styles and individual hair needs."
Unfortunately, the line will not debut until Spring 2015, so we'll all have to settle with our lackluster non-Kardashian hairs until then.