How To Look As Cool As Alexa And Her Lemurs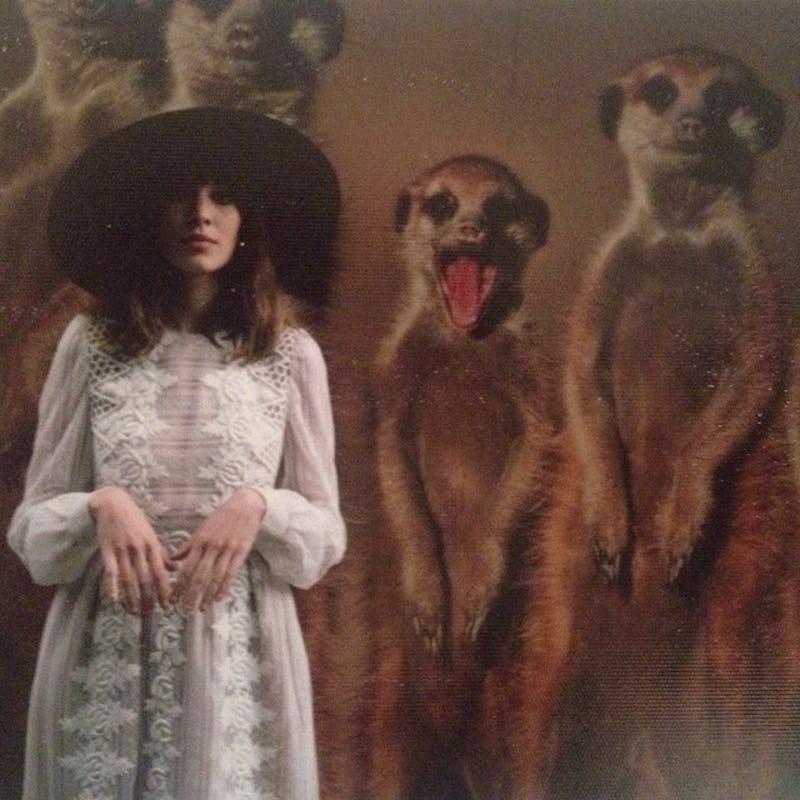 Alexa Chung appears to have the world transfixed. She is a reporter, a model, a fashion darling, and a beauty icon, none of which would be quite as delightful if it weren't for her quirky personality. In addition to helping bring the mussed, second-day hair look into fashion, Chung also consistently wears ensembles that have personality to spare. Though her fashions are lauded by fans and critics alike, Chung doesn't seem to have her public in mind when dressing; rather, her ensembles seem very unique to her own style as opposed to embracing every trend each season.
So when Chung posted a selfie on Instagram juxtaposing a thoroughly delightful, vintage-inspired ensemble with a mural of lemurs, the effect was both fashionable and fun; in other words, classic Alexa Chung. Chung's simple ensemble consisted of a chic wide-brim black hat, what appear to be pearl studs, and a delicately embroidered white dress, polished off with Chung's signature rosy radiance, a wavy, mussed lob, and hands draped just so to evoke the position of her lemur backdrop. Here are the four essentials you'll need to capture Chung's look. Unfortunately, you may have to figure out the lemur component solo. Perhaps a trip to the zoo in your elegant ensemble will do the trick.
1. EMBROIDERED LACE DRESS
Fashion simply doesn't get more intricate or winsome than Dolce Vita's Valentina Dress, whose delicate embroidery and three-quarter sleeve length evoke Alexa Chung's own dress.
2. BLACK WIDE-BRIM HAT
Add a touch of bohemian glamour with a wide-brim black hat like Chung's. Topshop's Floppy Wool Felt Hat achieves a similar vintage-inspired look with an affordable price tag.
3. DELICATE EARRINGS
Keep accessories genteel but modern with simple pieces featuring pearls. Fallon's Swarovski Pearl Microspike Earrings are sweet in the front and edgy in the back thanks to golden spikes.
4. ROSY-COLORED BRONZER
Add a supermodel-esque glow to your visage with a rosy-toned two-in-one blush and bronzer like Guerlain's Terracotta Light Sheer Bronzing Powder. The product is available in four shades to impart luminosity to dull skin.
Images: chungalexa/Instagram; Dolce Vita Valentina Dress, $275, revolveclothing.com; Topshop Floppy Wool Felt Hat, $56, shop.nordstrom.com; Fallon Swarovski Pearl Microspike Earrings, $98, fallonjewelry.com; Guerlain Terracotta Light Sheer Bronzing Powder, $52, sephora.com