Let's Revisit Some Of Their Best Songs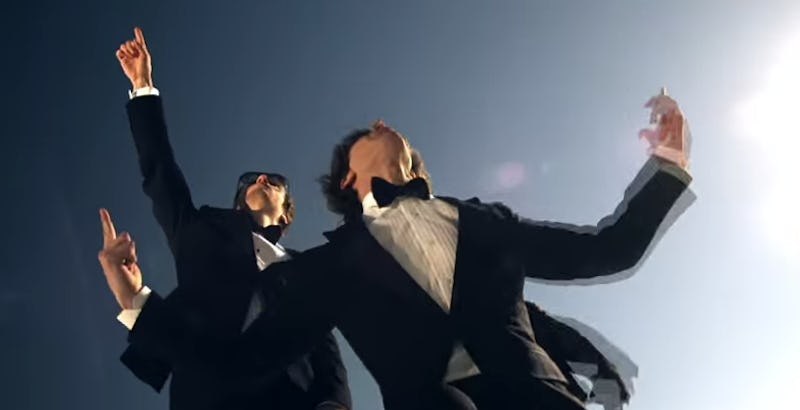 In case you missed the news, The Lonely Island will be making a movie with Judd Apatow. This is huge news for fans of Andy Samberg, Akiva Schaffer, and Jorma Taccone's comedy rap group, and huge news for Apatow fans, too. If this means an Apatow rap musical, then I am so in. Actually, I was already so in. These guys are hilarious, and have pretty much changed the face of Saturday Night Live with their digital musical shorts. I'm going to celebrate by making every Sunday until the movie comes out a "Lazy Sunday." You know, in homage.
On second thought, maybe a better way to celebrate would probably be to go back in time and revisit some of the group's best music. From their SNL shorts to their albums, The Wack Album, Incredibad, and Turtleneck & Chain, these guys have written some pretty catchy and viral songs, and now, with this new movie, it's very likely that they'll have a whole soundtrack of new music. Judging by the group's impressive history of guest stars — Justin Timberlake, Solange, T-Pain, Adam Levine are only a few off of their long list — who knows who will show up for their movie.
So, yes. I'm gonna jet back in time and reminisce about when I first heard some of these songs, and you should do the same. Perhaps you were in college, and someone sent you and Instant Message on AIM (awww, remember those days?) with a link to one of these songs, saying, "you MUST see this." Or perhaps you were having sex and someone sang, "I just had se-ex," and you were like, "WTF" and then he showed you the link and you nodded, partially irritated, partially laughing.
So, without further adieu, let's listen to some classic Lonely Island jams to celebrate their upcoming movie.
"I'm On A Boat"
This classic song featuring T-Pain about the prestigious joy that comes with boats changed boat trips for everyone forever. It even made me want a nautical themed pashmina afghan.
"Lazy Sunday"
Magnolia cupcakes, Chronicles of Narnia... may your Sundays never be productive again with this weekend anthem.
"Jizz In My Pants"
The classic song about the woes of sperm. My personal favorite moment of sudden jizz is "I just ate a grape." Also, try not to laugh when he recalls the film that he saw was a horror film. Lonely Island gold right here.
"Semicolon"
A fun song that features Solange B.E. — or "before elevator-gate" — and semicolons used incorrectly, until one very important grammar lesson at the end. Learn something, kids!
"Dick In A Box"
One: cut a hole in the box. Two: get Justin Timberlake to put his smooth vocals on your song about penis wrapping. Happy holidays, y'all!
"Shy Ronnie"
In "Ronnie & Clyde," Shy Ronnie (Andy Samberg) is too shy to make crime happen, and Clyde (Rihanna) is getting impatient. Watch "Shy Ronnie 2" above.
"YOLO"
Adam Levine and Kendrick Lamar were guests on these song that put a pragmatic spin on the millennial battle cry, "YOLO." Like, be safe. You only live once. So stop living dangerously. WEAR HEADPHONES TO CLUBS!
"I Just Had Sex"
In this track, Akon and The Lonely Island celebrate postcoital joy with a very, very memorable hook.
Image: thelonelyisland/Youtube