Priory of Ten Designer Mei Liu: Style and Elegance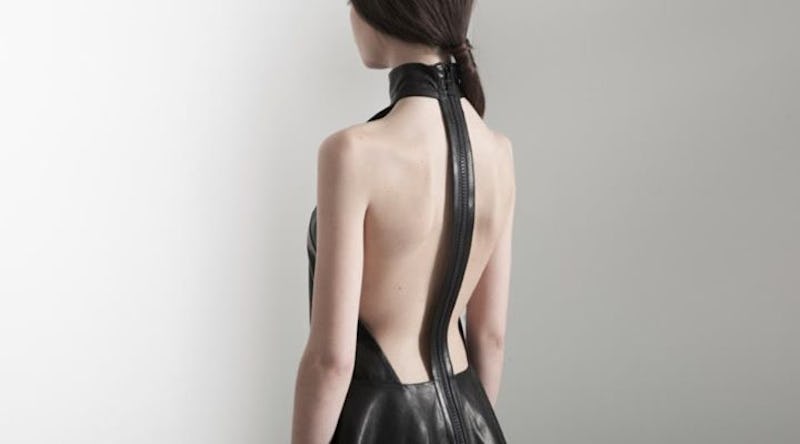 "I'm going to have a glass of white wine. Do you want one, too?" asks Mei Liu on an afternoon during one of those ungodly, sticky New York days in July. I politely decline, thinking I'm going to pass out from dizziness and dehydration on the subway ride home. As I sip tea and she her glass of wine, the designer proves why she's more than earned the right to sit back and relax every once in a while.
The 29-year-old Liu falls neatly into the ranks of fashion's rising young designers who multitask brilliantly, and spread creative energies across multiple brands. (Alexander Wang might come to mind as a compatriot). Liu wears two hats these days: Her day job is the recently appointed head of womenswear at lingerie-inspired brand VPL; by night (and in her spare time) she spearheads Priory of Ten, her pet project that's quickly gained notoriety among the fashion set.
In conjunction with business partners David Lin and Eunice Quan, Priory of Ten launched in November 2011 in New York City and Vancouver. At the time, Liu was working at 3.1 Philip Lim, no doubt an excellent springboard for understated elegance. Her fashion pedigree is very well-honed, and versed in the cool girl quota of things having worked with Lim, and also Paper Denim Cloth.
Refreshingly, Liu has quite a solid head on her shoulders — her education was in finance and accounting from the University of Toronto, and her business acumen is a boon for Priory of Ten. The brand has no full-time employees, so her knowledge of both balancing the books and designing the blouse comes in handy. When I ask incredulously how she manages to separate the design process at VPL and Priory, Liu remarks that Priory is dressier than what she works on at VPL. And it's true that the designs at Priory seem very different.
Different — and beautiful. A video on the website for the spring/summer collection features models donned in all white, knife pleats on a mid-length skirt and gossamer silk tank dresses juxtaposed with welding masks and goggles in a sooty workshop. It might look ridiculous if it weren't so painfully chic and well produced.
Liu brings out an armful of these pieces, and flashes of her simple silver rings run across the clothes as she explains her design process.
"I guess I have a very pragmatic sense of style. When I look at my wardrobe it's mostly black, grey, or white," she remarks. Case in point: Her own outfit of black leather shorts and a louche black silk button down amidst a sea of summery hues in July. My green and blue shift suddenly feels garish and loud.
Out of one of the slick black garment bags, she produces a white tuxedo blazer fashioned out of an untraditional heavy knit. The better part of the ensemble is the matching floor-length skirt, with a thigh-high Angelina-esque slit that exposes a hint of a short underneath. Practicality meets black tie. She continues to reveal more: a double-layer silk tank with playful straps criss-crossing. A white silk tunic with bell sleeves that looks like a '70s-inspired Yves Saint Laurent number. Liu explains that this is a key piece in her collection and her life, doubling from a top tucked into jeans to a cover-up.
As if reading my skeptical air on entering a contemporary market that already looks over-saturated with brands, Liu says that Priory of Ten is purposefully priced at a competitive entry point. For example, the aforementioned tux jacket costs $485. "Synthetic fabrics are making a comeback in the luxury market," she says, alluding to a savvy business move to keep costs low by incorporating ponte jersey into the usual mix of silk and wool fabrics.
Priory of Ten retail remains small right now, carried at a few stores in New York, Vancouver, Seattle and online. That's part of Liu's strategy, though; she says that the brand needs to "grow organically."
After an hour of talking shop, the conversation drifts to the all the spectacular concrete jungle that makes up Manhattan. Liu waxes poetic on her neighborhood of Nolita and the reclaimed railroad tracks of the Highline, which she calls a "point of reference". Perhaps that reference point, a beloved piece of New York culture now, will help catapult Priory of Ten to its own reference point for dressing.