Captain Lee is the Real 'Below Deck' Star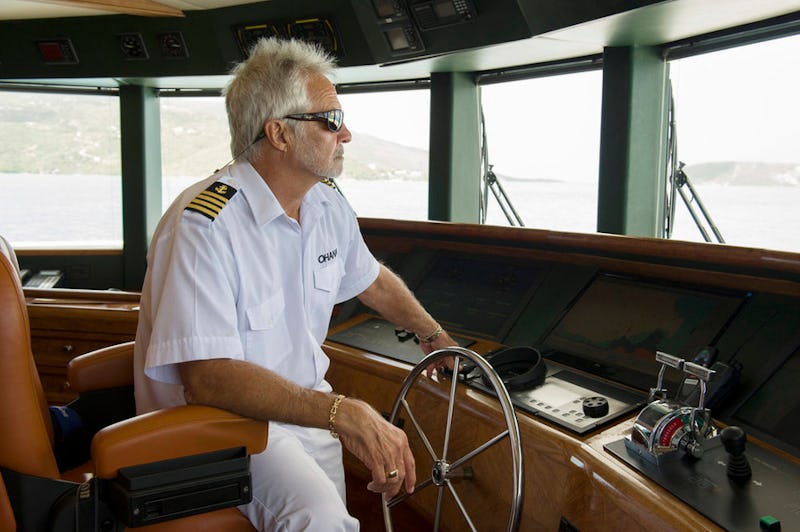 One of the secret surprises of Bravo's catalogue is the seaworthy series Below Deck and at Below Deck's helm is the gruff Captain Lee. It's nice to have at least one show that isn't super-de-duper serialized, where every conflict started at least eight episodes ago and probably revolves around whether or not someone came to someone else's party. Or fashion show. Or envelope opening. But on Below Deck, there's usually a new charter every week and while the interpersonal conflicts stay the same, they're super simple and easy to understand (i.e. Kat is a party girl, Adrienne is a taskmaster, fireworks ensue). Plus, it's an actual summery show on this summer, unlike The Real Housewives of New Jersey, which is giving me unpleasant flashbacks to this snowy winter.
But what holds Below Deck together is Lee, the tough as nails yacht captain. He enforces the rules, but doesn't want the kids to miss out on having fun, either. While even perennial stick-in-the-mud Adrienne was allowed to get in on the fun, every time poor Captain Lee tried to joint the rest of the crew, they'd either do rude impressions of him, or just finish calling him all manner of profane names.
And the crazy thing is, he's not that tough on them. He rarely yells, and honestly doesn't really have much of a punishment set up for infractions. Most of the time, he's sighing about a stupid mistake one of the crew members made or eyeing the tropical horizon with suspicion, like he's thinking, "What fresh hell awaits me today in what should be paradise?" God forbid he tries to run a fire drill, these kids want bonus points for trying. Look, I hate getting up early when I'm hungover, too. But they don't really give out A's for effort when it comes to putting out a fire.
Because one of the key components of a Below Deck cast is that they don't quite understand what having a job is, often Captain Lee gets mocked or yelled at for telling the crew what to do. There have been several times when they might as well have yelled "You're not my real dad and you never will be!"
But through it all, Captain Lee takes it like a true sailor: By swearing, sweating, and coming up with strange turns of phrase to describe the situation.
The thing that makes him great is that he's the lone sane man on this boat full of idiots, but he cares about the idiots. Even when CJ and Sam completely break his rules and ditch out on work to swim, drink beers, and make out, he is nice enough to give them a second chance, but annoyed enough to bid CJ good riddance when he bails on the yacht, their final charter, and the show to join a new boat. Seriously, when it comes to Below Deck, come for the sexy yacht drama and brand new cast, stay for the grizzled old sea captain. Captain Lee: Best Bravolebrity of the summer? Maybe Best Bravolebrity ever.
Image: Virginia Sherwood/Bravo